Talons à supports mixtes
nul
Coté

4,6

sur

5

 par

67

les évaluateurs.
Coté

5

sur

5
 par
Flavita
Beautiful Feminine Shoes!!
I got my shoes yesterday and fell in love with them right away! The shoes are beautiful and the quality is great. I love the material and color combination making the shoes really stand out but without being too out here. The soft color palette works perfectly with a lot of my outfits, specially with my skinny jeans (as you can see in the photo with my pup). I walk to work everyday and these shoes were super comfortable, it's a perfect height for a tall girl like me. I'll definitely be wearing them all Spring and Summer long, just wished they came in other colors so I could buy both!
le 8 mars 2012
Coté

5

sur

5
 par
GeoInCalifornia
Will Make your Legs Look Amazing!
I passed these over countless times. Then I read the reviews and reconsidered. SIZE: I ordered my normal size 8. The front of my foot is slightly wide, the vamp low, and the heel narrow. I gravitate to a shoe that has vamp or ankle straps. FIT: TTS! The front is very roomy and comfortable.. The ankle strap should prevent a narrow foot from sliding forward. My heel is narrow so the strap is buckled in the tightest hole. It's possible to add holes if needed. COMFORT: The narrow ankle straps are flattering. I had no issues with rubbing or blisters. I added cushioned inserts because the ball of my foot burned by the end of the day. These feel stable. The sole is slip resistant. CARE: Watch out for dye transfer to the light suede. Especially with dark denim. I treated the suede with protector and used Mink Oil on the rest of the shoe. The color is pale lavender. The dark edging and black at the heel prevents washout for light skin tones. These dress up or down. DEFECT: I didn't notice this until after I wore them. There is a 1/8th inch strip of bare material on the front of one shoe, about 1,5 inches long, where the leather was cut shy of being sewn at the edge. There were 45 in stock when I ordered my size 8's. 10 days later there are 31 left. These won't likely make it to the sale section. This is my first pair of Farlyrobin's. The brand tends to run narrow. Not these!
le 7 avril 2012
Coté

5

sur

5
 par
indigobunting
Lilac Lovers
These shoes are awesome in every way. The mix of color and texture on these heels is genius. Super comfortable toe box area (since I have a super fun bunion as a constant companion, this is important to me) and the heel height is totally doable Wore them for 8 hours straight the first day on. This is a great purchase.
le 2 avril 2012
NOIR
Par Farylrobin
Taille juste
Boucle ajustable
Tige et semelle intérieure en cuir
Semelle synthétique
Talon enrobé de raphia de 3,5 po
Importée
N° de style : 23855521
Un bout ouvert gravé effet python, un talon tissé en raphia et des brides lisses en suède de couleur violet pâle : un trio de textures à contraster avec un jean foncé et un chemisier flottant. Une exclusivité Anthropologie par Farylrobin.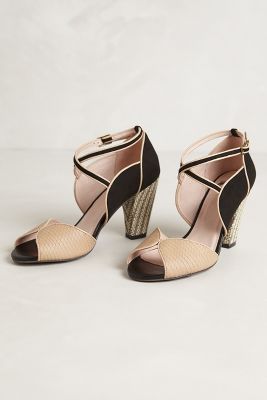 -->