Catégorie nulle
Nettoyeur de pousses
nul
Coté

5

sur

5

 par

2

les évaluateurs.
Coté

5

sur

5
 par
munmun
Great for my oily, acne-prone skin (w/toner also)
Combined with the toner, the cleanser is fantastic for my oil, acne-prone skin. I always had a sneaking suspicion that other, more mainstream products were doing more damage than good, so I tried sprout's stuff. It proved to work really well for me and decrease my acne significantly. I didn't even realize there was a direct correlation until I recently ran out of the cleanser and toner and literally my face broke out and have been unfortunately experiencing a lot more acne as of late. So i'm definitely resupplying now. Thanks, Sprout, for these great skincare products. They are really helping me feel great.
Le 5 mai 2012
Coté

5

sur

5
 par
Everette
Bottle full of goodness
So the bottle is way smaller than I expected but never mind that, it smells so wholesome. Like tea tree oil and roses. When I put it on my face, I realised how moisturising it was. My cotton ball had remaining makeup residue and dirt, so kudos to its cleaning abilities. I love supporting small companies :D
Le 14 juin 2012
BLEU
Ingrédients de base: organic rosewater, glycérine végétale, organic tea tree oil
4 onces liquides
Fait à la main aux États-Unis
N° de style : 24759631
Next to rinsing with water, this cleanser is as frills-free as you can get, making it perfect for sensitive and problematic skin. An intoxicating blend of organic rosewater, glycerin and tea tree oil, this soap-and-alcohol-free wash leaves you sparkling clean in the gentlest way possible. Every one of Sprout's ingredients is certified organic, fair trade or grown on small family farms, resulting in products that are as good for the community as they are for your skin.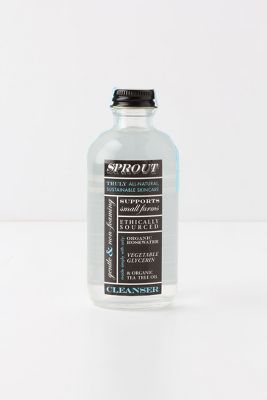 -->