Catégorie nulle
Woven Tangles Cuff
nul
Coté

5

sur

5

 par

4

les évaluateurs.
Coté

5

sur

5
 par
BarbnearChicago
Beautiful bracelet fits my bony wrist well!
Hi all, I bought this bracelet in the turquoise colorway to go with my summer dresses and Paso Fino sandles in turquoise. I love the fit of this cuff; I have trouble with bracelets and cuffs turning around or hanging the wrong way on my wrists. I am not sure how to describe the styling but the cuff has some "recoil" to it so that is hugs the wrist and stays in place. It does not twist around with movement. I don't mean to suggest though that is it tight; it is very comfortable and it probably adjusts to suit different wrist sizes.
Le 2 mai 2012
Coté

5

sur

5
 par
vintageflea
Good Deal
These bracelets are so fun that I had to buy all three styles! I bought the gold, turquoise, and then there was a beaded one in the store.( I did not see the white one shown on-line). I just love them! They are not cheap looking at all yet they are lightweight. You can squeeze them to adjust to your wrist which is a plus for me as I have tiny wrists. A steal at that price.
12 juillet 2012
Coté

5

sur

5
 par
tm01
light weight and stylish
If you want to make a statement, but can't stand something too heavy or fussy, this is it. Perfect summer accessory.
8 août 2012
DORÉ
Plastic, brass
2 po de largeur, 2,25 po de diamètre
Importée
N° de style : 24804940
Add another dimension with this bangle's curled coils and crystalline crests.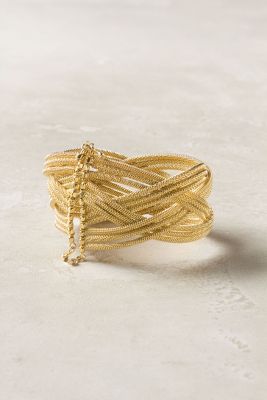 -->