Catégorie nulle
Courtepointe Lille
nul
Coté

3,6

sur

5

par

8

les évaluateurs.
Coté

4

sur

5
par
savannah4730
In Love!!
i saved up forever for this bad boy so you can imagine my disapointment when i went to buy it and they were sold out. the store offered to ship it to my house and it arrived in two days!! it is very big and BEAUTIFUL! its much more adorable in person then it is on the pictures. the only reason im not giving it five stars is because its not as heavy and thick as my last one like i was hoping it would be. but i do not regret this purchase!
10 août 2012
Coté

5

sur

5
par
RaleighGirl28
Perfect
I've had a white bed spread on my bed since I can remember... But when I saw this quilt, and saw that it was on sale, I knew that I just had to have it. It goes perfectly with the grey walls in my bedroom, along with some of the other items around the room. The quality is pretty good, though the stitching (whether aesthetic or necessary# looks delicate. I love the colors and they are just as seen in the picture. I have a full sized bed so the queen size fits well with some extra room on the sides #but not too long). Overall a great purchase and I'm very pleased
15 août 2012
Coté

2

sur

5
par
90045momof2
Gorgeous, but...
I got the Lille Quilt as a Mother's Day gift, this is my second quilt from this manufacturer. Both gorgeous in color and design. I ruined the first one by machine washing and drying it. I knew I wouldn't make the same mistake twice by throwing it in the machine, after all the tag says DRY CLEAN ONLY. Well wouldn't you know it, the 4th day on my bed and it got stained with marker. I happily took it to my dependable dry cleaner and he cleaned it, and even removed the stain but the batting inside is ruined. It is separated leaving tons of thin spots all over the place. It is not thick and cushiony anymore either, totally flat with bare thin spots in the batting. It's almost as if the batting shrank inside the quilt. This quilt was a huge waste of money as it can't be cleaned at the dry cleaner or at home. I am so disappointed. This was supposed to be my summer quilt. Huge bummer!
Le 17 mai 2013
MARINE
Fait partie de notre collection Hothouse Quilt
Coton
Nettoyage à sec
Importée
N° de style : 24857914
Nos couvertures Hothouse sont fabriquées avec passion - après tout, il faut 72 heures, 60 mains, 13 processus différents et d'innombrables couleurs pour les créer. Ici, une panoplie de motifs de coton en courtepointe de couleur vive, tous plus colorés les uns que les autres, confère à votre boudoir une touche bohémienne moderne.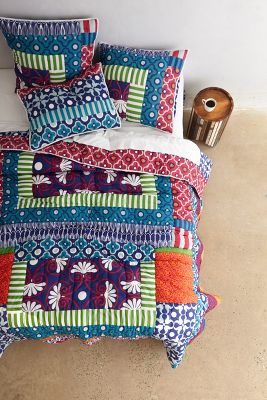 -->