Catégorie nulle
The Elements Of Style Illustrated
nul
Coté

5

sur

5

par

2

les évaluateurs.
Coté

5

sur

5
par
JamsnSamsn
A Classic Reinvented
I'm a grammar freak. I also like quirky, fun books. This is the perfect mix of the two. I do all the editing for my office and I'm constantly referring to this book to figure out what grammar rules to cite, to find the proper structure of sentences, to waste some time and look at all the pretty pictures. You get the idea. There are so many unique touches that you can't see until you actually buy the book or see it in the store. For example, the front insert page says "hello" and nothing else. And the back three pages have "thank you," "and," and "goodbye." Or something along those lines. And the one page in the back with all the credits/copyright info is all slanted and crazily written. Like nothing I've ever seen. From a designer's standpoint, this book rocks! From a grammar-nerd's standpoint, this book also rocks. The regular Elements of Style that I own is too tiny and crammed full of info. This one is big and spread out and there are pictures throughout. Buy it. Read it. Love it. The quirkiness will make you smile.
Le 7 mai 2012
Coté

5

sur

5
par
designlady
Everybody needs this book.
Everybody has to write, at least a little, and this is the book to keep handy when you have a grammar or punctuation question. More than that, though, this book is adorable and fun to use! I agree with the earlier reviewer who said she looks for reasons to open it up and look inside. I love this illustrator, and it is just a double bonus to have her whimsical images along with the text. This makes a terrific gift for anyone.
le 2 avril 2013
MULTI
Livre relié
150 pages
Penguin
N° de style : 24964793
Le manuel d'écriture stylistique de Strunk et White à l'attention des écrivains consciencieux est maintenant agrémenté en esprit et en élégance par les illustrations de la géniale Maira Kalma.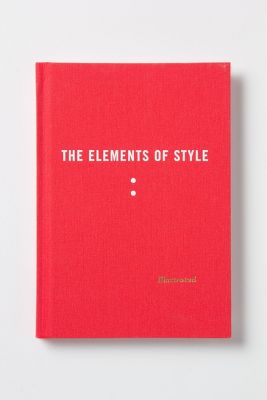 -->