Catégorie nulle
Henley Devin
nul
Coté

4,4

sur

5

 par

19

les évaluateurs.
Coté

3

sur

5
 par
DahliaLover
Really pretty, but there are fit issues
I tried this on today and really wanted to buy it after having read the glowing reviews yesterday. The top is super cute, but I didn't buy it because the sleeves were WAY too tight, and also the shirt is too low cut for my taste. I thought of sizing up in hopes of finding sleeves that weren't so snug, but then it would've been too lose across the chest. Sigh! If you have zero arm fat, then maybe this is for you. I tried on the grey color and it was lovely.
28 août 2012
Coté

5

sur

5
 par
RockChalkJK
Cute top
I love this top! I bought it yesterday! But I did have to get a small, only because the sleeves are so tight. I love how comfy and soft the fabric is. It's cute with a skinny or boot cut jeans! It does require to be wash in cold and by hand! Just in case you are wondering!
12 octobre 2012
Coté

5

sur

5
 par
Annette91
Dont pass this up
I initially bought this top as a gift for someone. I walked right passed this shirt upon my first sweep of the store. I ended up loving the top so much I bought one for my self. The fit is great and is a little longer than I expected but I love it. The color seems kinda drab BUT ITS NOT. Once you see it in person/try it on I wouldn't be surprised if you buy it! It seems quite versatile. The arms are a bit tight. I have skinny arms so the fit of the arms was no issue. For reference I bought an xs
14 septembre 2012
GRIS
Devant boutonné
Coton, modal
Lavable à la main
26,5 po L
Importée
N° de style : 25000746
A silhouette borrowed from the boys is accented with a few femme touches of Vanessa Virginia's trademark bohemian flair.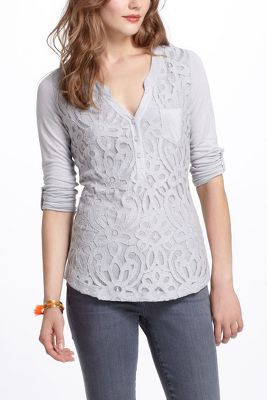 -->