Scarlet Studio Dress
nul
Coté

4,2

sur

5

 par

10

les évaluateurs.
Coté

5

sur

5
 par
LovelyE22
I bought this dress for my anniversary weekend. Very very pleased considering how much It cost and I was anxious not having any reviews to read before purchasing. And I love love love maxi dresses! I bought my usual size small. I'm 5'9 34b and 140 slender/athletic build. And it fits exactly how pictured on the model. This dress IS long. It dress hit the top of my feet and I like mine to be a little on the longer side. Shorter women beware, you might have to hem this one! This does have an empire waste and is flowy, not form fitting. LOVE the pockets. The only little flaw is the back, I plan on wearing with a regular bra, and the top aspect of the bra sticks out just a slight bit where the dress dips in the back. The quality of this dress is incredible! Very soft! A staple for any wardrobe! Very red!
16 août 2012
Coté

5

sur

5
 par
clemsontina
hello, i love you
every few years i buy a dress from anthro that i wear for many seasons, i think i have found my new go to dress. i have a larger bust and typically dresses that come up higher towards my neck do not look good on me, but something about the way the top is cut it doesn't make me look like my bust is coming up to my chin. it is also very comfortable, the fabric is really soft. the back goes a little low, but it's high enough you can wear a regular bra. also it has POCKETS! like the other reviewer said the dress is kinda long, so if you are shorter you will either need to have it hemmed or wear tall wedges. best of all, my husband loves it.
29 août 2012
Coté

4

sur

5
 par
Blondie78
Beautiful Maxi
So this dress is a total splurge. I fell in love when I saw it (online) and had to order it despite the sticker shock. Not even a little disappointed. The color is gorgeous. It is luxurious and comfortable all at once. I am tall and this dress is long. Must wear shoes with height to compensate for length, but it adds to the overall effect of how incredible this dress is. You can see on the model that the arm hole is very open, so you must choose bra carefully so that it cannot be seen. Also, the back is deep and open. I have a bra that cannot be seen despite the open arm holes and back. Buy this dress, it is worth the money.
19 août 2012
MOTIF ROUGE
Ace & Jig
Style tricot
Coton
Lavable à la machine
Longueur : 58 po
Importée
N° de style : 25059155
Textured and striped cotton doublegauze forms an easy, floor length dress with a slightly raised waistline. By Ace & Jig, the line from New York-based designers, textile-lovers and curiosity-collectors Cary Vaughan and Jenna Wilson. Involved in the creation of the hand-loomed textiles they use in their designs, they ensure that each piece has an ultra-soft feel and an enduring appeal.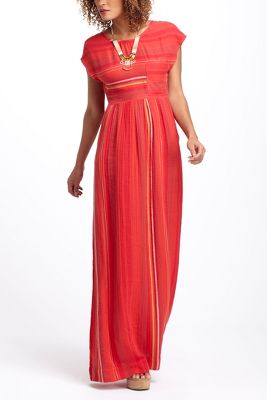 -->