Songbird Embroidered T-Straps
Songbird Embroidered T-Straps
nul
Coté

4,2

sur

5

par

14

les évaluateurs.
Coté

1

sur

5
par
RachDC
really uncomfortable
I tried these on at my local anthro and have to say I was so bummed b/c they are exactly the special looking shoe I go to Anthro for! While these shoes are even more beautiful in person, sadly they are SO uncomfortable! The leather feels really ridged against your feet, the button strap digs, and the part that cups around your arch constricts. They felt like wearing a pair of really old shoes you?d find in a vintage shop. I think it?s something about the quality of leather and fit of the shoe that made these extremely uncomfortable. I was one of 2 gals in the store trying them on and we both couldn't pin it down why they were so ill fitting, but in general they were just so uncomfortable that you couldn't get over it enough to see how pretty they are. I've purchased shoe before knowing they were snug but just needed to be broken in, but these didn't seem to lend themselves to that train of thought - I actually seem them falling apart as they "break in". They just don?t seem particularly well made and I envision the beads falling off pretty much right away (they include replacement beads in the box - btw).
26 septembre 2012
Coté

4

sur

5
par
Cowgirlrosie
So beautiful!
These shoes just arrived, and today feels like Christmas! I bought the blue ones, and they are beyond adorable. I ordered a size up, since the information says they run small. There is plenty of room, and I have a high instep. They were easy to get on. I am wondering if I could wear my usual size, and am calling my local store to see if they have in stock just to check. I don't want to walk around too much in these in case, but so far they are comfortable with stockings. I could easily wear heavier tights with them. Like with many shoes, I wish the foot-bed had more padding - but with the room available I could add purchased insoles. These are shoes with emotional power - I can't stop grinning. My husband, who is a bargain shopper and would never spend this much on shoes for himself, thinks these are worth every penny because he like to see me "so silly happy." The last time I felt this way about a pair of shoes was years ago when I bought our then toddler daughter a pair of ruby red sparkle Mary Janes - that she called her "farkle shoes" - and wore every day until she outgrew them and every "farkle" fell off. Now she and I are shoe-holics together and, she was just waiting to see what I thought of them in person before ordering her own black pair. I live on a farm and am usually in muckboots and jeans - I can't wait for an occasion to show them off! And I'm sure my holiday outfit will be planned around these shoes.
6 octobre 2012
Coté

4

sur

5
par
musingsbyjacquelyn
A Chore to Get on
I wear a US 10 and ordered a size 41, which felt true to size. I have a high instep so these were a struggle to get on. I think repeated wear would concern me because I really had to work at it and though there is some stretch in the t-strap at either end I had to almost "collapse" the back of the shoe. The shoes show quite a bit of toe cleavage and dip down pretty far on the sides. I had some rubbing along the top of my little toes that was very uncomfortable. Your market may vary, though, depending on your own feet. These shoes seem fairly well made though the suede in my opinion is not the caliber of higher-end suede shoes (like Chies). They come with extra beads in the event you lose some. Two extra buttons are also included along with a note warning you to be careful lest the original buttons come off, but if they do, here are some extras. These feel stable when you walk and I wasn't worried about falling on my face. Overall though I have decided to return these. I don't want to be overly challenged at 6:00 a.m. in the morning when putting shoes on to head out the door. The rubbing on my little toes is also a deal breaker. I also don't think the thick part of the t-strap does my big ankles any favors. Back they go!
3 octobre 2012
BLEU
Par Miss L Fire
Confection petite; commander une taille au-dessus
Tige et semelle intérieure en cuir
Semelle synthétique
Talon de 3 po entouré de cuir
Importée
N° de style : 25080110
Depuis sa première saison en 2005, Miss L Fire est une préférée des dames aux goûts exquis, qui ont un bon sens de l'humour. Linsey Hand a travaillé comme acheteur et designer dans d'autres compagnies de chaussures, avant de lancer sa propre entreprise; elle a bâti sur ces fondations et y a ajouté un gros clin d'œil de séduction un peu kitsch. She is especially enamored of the styles of 1940s and 50s Hollywood, updating retro profiles and patterns for the modern woman. This needlepoint suede pair is the perfect embellishment for colored denim and a simple blouse.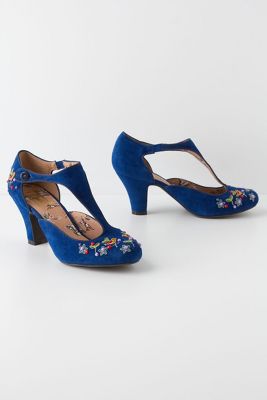 -->