Songbird Embroidered T-Straps
Songbird Embroidered T-Straps
nul
Coté

4,2

sur

5

 par

14

les évaluateurs.
Coté

5

sur

5
 par
hudsonvintage
Fits Perfectly
I want to start by saying I have ordinary feet. I wear 9,5 or 10 american and 40 euro sizes. I took the advice of buying one size up to heart, and these fit perfectly. They are easy to put on and take off. They are lined in soft leather. They are well made, the beads are well sewn. Absolutely adorable. No first day pain of any kind. They arrived yesterday and I have been on my feet all day and they are dreamy.
7 octobre 2012
Coté

4

sur

5
 par
AlreadyArtists
Beautiful vintage-looking shoe
These shoes just arrived yesterday. I bought them in spite of the one review I read because they were just so beautiful I wanted to judge for myself. I don't think they are poorly made at all, especially after what I had read. I'll admit they are a bit stiff, like vintage shoes, but still not what I would call uncomfortable.The button strap doesn't dig in on me either. On the contrary, there seems to be ample room & some give in the strap. You don't unbutton the shoe. The strap has a bit of elastic for you to slip it on. I generally buy shoes for comfort & style & will always opt for more a more expensive shoe that I think will last. I may amend my review after wearing them for a length of time but so far I am thrilled that I grabbed up these super special & precious pair of shoes.
29 septembre 2012
Coté

1

sur

5
 par
RachDC
really uncomfortable
I tried these on at my local anthro and have to say I was so bummed b/c they are exactly the special looking shoe I go to Anthro for! While these shoes are even more beautiful in person, sadly they are SO uncomfortable! The leather feels really ridged against your feet, the button strap digs, and the part that cups around your arch constricts. They felt like wearing a pair of really old shoes you'd find in a vintage shop. I think it's something about the quality of leather and fit of the shoe that made these extremely uncomfortable. I was one of 2 gals in the store trying them on and we both couldn't pin it down why they were so ill fitting, but in general they were just so uncomfortable that you couldn't get over it enough to see how pretty they are. I've purchased shoe before knowing they were snug but just needed to be broken in, but these didn't seem to lend themselves to that train of thought - I actually seem them falling apart as they "break in". They just don't seem particularly well made and I envision the beads falling off pretty much right away (they include replacement beads in the box - btw).
26 septembre 2012
BLEU
Par Miss L Fire
Confection petite; commander une taille au-dessus
Tige et semelle intérieure en cuir
Semelle synthétique
Talon de 3 po entouré de cuir
Importée
N° de style : 25080110
Depuis sa première saison en 2005, Miss L Fire est une préférée des dames aux goûts exquis, qui ont un bon sens de l'humour. Linsey Hand a travaillé comme acheteur et designer dans d'autres compagnies de chaussures, avant de lancer sa propre entreprise; elle a bâti sur ces fondations et y a ajouté un gros clin d'œil de séduction un peu kitsch. She is especially enamored of the styles of 1940s and 50s Hollywood, updating retro profiles and patterns for the modern woman. This needlepoint suede pair is the perfect embellishment for colored denim and a simple blouse.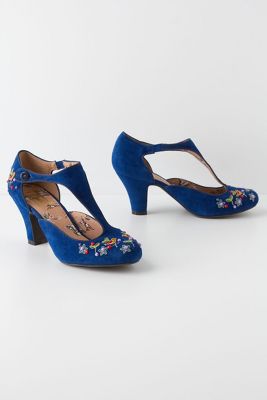 -->