Catégorie nulle
Camisole Biosphere brune
nul
Coté

3,3

sur

5

par

4

les évaluateurs.
Coté

5

sur

5
par
Ashenden
Tres Marni, sans price=amazing camisole
I don't know why this has received poor reviews. It's extremely comfortable, the straps are slightly (just) adjustable and the material is really comfy. I would wear this under a cardigan or on holiday on its own as a fashion piece...not just to sleep in. I understand the tricky part is the no-support top. It made me nervous too. I wear a 34c, am 5'6 and weigh 135lbs. I ordered a medium and it fit well...ideally if everything could be a quarter of a size smaller, I'd be thrilled. There is decent coverage...no spillage....and it surprisingly shelves my chest enough so I don't have a sagging look. I wouldn't recommend this for someone who has over a C cup, has fleshier breasts or whose chest is heading in a more err..."southern" direction. My only issue with this top is that it is slightly long and boxy at my torso. I worry if it will stretch more and become too baggy. Regardless, I bought this as lounge/sleepwear for a steal so I got more bang for my buck than I thought. Oh as my review title says...it has a Marni look....the pattern, color and ribbon straps just have that vibe. Would order more if came in other patterns.
22 février 2013
Coté

3

sur

5
par
jeansandjacketrequired
not as good as the pink spatter cami
I bought the Pink Spatter Cami , the Brown Biosphere Cami and the Neutral Biosphere Cami. The Pink Spatter Cami is by far the best design. For the other two, the cups are cut a bit too low (even for a smaller busted lady like myself (36C or B). The straps tend to pull in awkward ways that cause the square rings to rotate into a vertical position causing a lot of stress on the ribbon/straps. I really love these cami's and will wear them under sheer tops all year round but the Brown and Neutral Biosphere Cami's will need to be edited. The rings must be removed and the straps sewed to exactly where i need them to be. This flaw does not happen with the Pink Splatter design.
4 février 2013
Coté

4

sur

5
par
bcat
I hesitate on ordering bras and camisoles online as I am a 36DD plus the criss-cross design isn't the best with fuller cup sizes... but I took a chance and got the large because I love the design ... this Brown Biosphere Cami is so comfortable and my "girls" the DDs fit and didn't pop out on the "lean-over" test... the cami is so visually flattering, love the golden-yellow straps which add support and the fabric is so comfortable. Love it!
17 janvier 2013
MOTIF BRUN
Bretelles réglables
Coton, élasthanne
Lavable à la machine
Longueur : 26 po
Importée
N° de style : 25109455
La designer de UV_Undervisibles, Victoria Bartlett, s'est inspirée de la nature pour sa toute première collection de sous-vêtements imprimés. La petite soeur plus sportive de l'étiquette VPL de Bartlett, UV_Undervisibles, se concentre à épouser les formes avec des coupes utilitaires et confortables et de magnifiques imprimés pouvant se mêler, s'agencer et se superposer. Ici, la géométrie terreuse ajoute de la profondeur à une camisole grosgrain en coton extensible.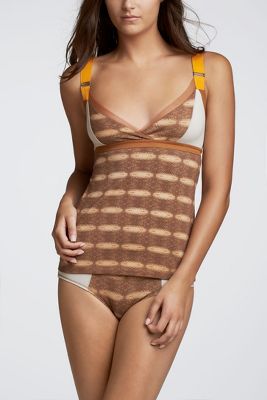 -->