Catégorie nulle
Openwork Laurel Boots
nul
Coté

4

sur

5

par

25

les évaluateurs.
Coté

5

sur

5
par
Mata
Favorite boots
From the moment I saw these on line... I wanted them. I tend to wait and read reviews first.. and then even wait for a sale or first cut. However, I had to go with my instincts.. that this pair of boots would be a favorite addition to my fall wardrobe. The Italian leather is thin, but high quality...very very supple, and stretches and cascades over your foot. This is important to me, as my right foot is a bit wider than my left.. with a bunion beginning : ( I wore these for over a week before reviewing.. with skirts and bare legs... and they look the same as the day I first ordered them. No scuffs, no stretching. Super comfortable. They are loose in the heel and ankle area yes, and a bit of room in the toe... in case you may want to layer with socks or tights as it gets colder out. However, the looseness did not at all contribute to any chafing or tripping... only comfort. I ordered the brown version, and there are subtle variations to the color, especially in the area where the leather was worked... but it just adds to their interesting look. I am very glad I bought these now... because I knew I would be very sad if they sold out in my size! I'm usually a 9(9,5 in boots for socks/tights) and ordered the 40.
26 septembre 2012
Coté

2

sur

5
par
DiscerningBuyer
Flimsy! Won't last.
I looked at these in-store because I love the lacy leather cutouts. However, the construction is very poor quality. The toe box and heel counter appear to be made of cardboard, as I held them in my hand, gave them a gentle squeeze and they collapsed quite easily. The leather is thin and flimsy. I would expect a boot of this price to be of significantly better quality construction. This is quality I would expect from a store like H&M - and I would also expect H&M pricing.
13 août 2012
Coté

4

sur

5
par
Nazzi
Very Comfortable
At first they felt tight but as I wore them, they loosened up and are really soft and comfortable now. They aren't loose enough around the leg to tuck jeans inside but are perfect for bare legs, leggings and tights.
30 août 2012
BRUN
Taille juste
Tige et semelle intérieure en cuir
Semelle synthétique
14,5 po de hauteur; 14 po de circonférence
Talon bottier en cuir de 1 po
Italie
N° de style : 25112160
We're loving cutout boots because they're trans-seasonal - the breathable design allows you to throw them on sans-stockings while summer's still in swing, while the structured silhouette makes them perfect with a peek of color-pop tight come fall. By Essenza.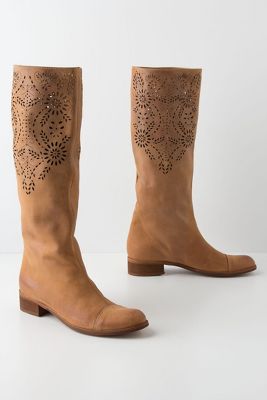 -->