Catégorie nulle
Trench à volants
nul
Coté

4,7

sur

5

 par

36

les évaluateurs.
Coté

5

sur

5
 par
kristay
Beautiful, unique trench. Very warm.
Love coats by Elevenses. This one was a lot heavier and warmer than I was expecting when I saw it online. The coat has lovely ruffle detail at the top, making it unique from other trench coats. I'm very slender (5'5" and 100lbs) and found this coat to be quite well fitting, so some may need to size up. I tried on a zero and it fit perfectly with a long sleeved shirt and dress underneath. I'm not sure how well a bulky sweater would have fit underneath, but the jacket itself is warm enough for those who live in milder climates like San Francisco (or even DC if DC's winters continue to be as mild as last year). I think the price point is great and the coat is well constructed. Definitely on my wishlist!
18 août 2012
Coté

5

sur

5
 par
gardenia
This reminds me less of Elevenses and more of the Idra jackets of previous years, like the gorgeous Clinton Trench and Double Ruffle Trench. It's a similar weight and fabric (which means it's likely not waterproof), and has a subtle beige/white polka dot lining with cute coral piping. I tried on my usual size 0 and it fit well but the sleeves were a tad long, so I'd like to try the 0P as well. Hopefully the petite length is as stated on the website and not too short. On my petite frame, the ruffle extended a bit above my shoulder (even with the two snaps), which is really my only quibble with this coat. It can be a bit of a hassle to put on - there's a half-zipper that you can't see too well because it starts under the bust, plus two reverse buttons (not sure what the real term is, but it's where the button faces inwards), and the two snaps above the shoulder for the ruffle. I was a little worried that this would only look good worn closed and all zipped up, but I actually really liked it just wrapped closed and knotted, with the ruffle folded down but still visible (see second photo). It looks a little weird completely open because one side is much heavier than the other, but with these two ways of wearing it, I think it's fairly versatile. Overall, I love this coat, and it's a good thing it was 90 degrees out because I was seriously tempted to bring this home today!
25 août 2012
Coté

5

sur

5
 par
Marston
awesomesauce
Elevenses usually makes solidly constructed pieces and this coat is no exception. It is well made and has a flattering fit. I love the ruffle detail and the buttons. It zips beginning at the natural waist and going up on the inside. I also thinks it looks okay worn open, especially given the solidity of the fabric.
6 octobre 2012
BEIGE
Auto-serrage
Poches avant
Coton, polyester; doublure de coton
Lavable à la machine
Standard : longueur de 33,75 po
Petite : longueur de 32,14 po
Importée
N° de style : 25121054
Lengthy and classic, Elevenses' fall-weather coat boasts a ruffle that slices diagonally, from shoulder to knee.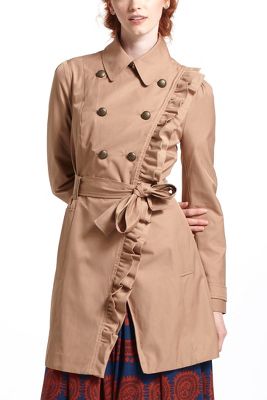 -->