Catégorie nulle
Agnessa Dress
nul
Coté

3,5

sur

5

par

4

les évaluateurs.
Coté

3

sur

5
par
SFsweet
agnessa dress
I tried this dress on, it is a beautiful dress with beautiful design. Appropriate for cocktail or special event but not for daily wear. It also has narrow hip area. I dont have big hip but I have difficulty to pass the dress through the hip area and if I size it up, the top part will be too loose.
15 août 2012
Coté

3

sur

5
par
TeeJ
Beautiful Dress
I was very excited to try this dress on. I tried it on in the store and have to agree with the other reviews in that the hip area runs very small. If you have any sort of curves on the bottom, this dress may not be a great fit. I was very disappointed in the fit and wish it was a little more roomy on bottom. I do have curves, wear a size 8 normally, 34D, 5ft 8 in. I was willing to try a bigger size but even a size up wouldnt have fit. If I went 2 sizes up, Im sure the top would have been too big. Great dress for slim, noncurvy women. :)
28 août 2012
Coté

5

sur

5
par
LittlePails
Gorgeous mix of prints!
Loved this dress online and even more when i tried it on in store. Fits beautifully. I usually wear a size 2 and that size fit well. I am little wider in the hips but didn't have a problem once the dress was on
17 septembre 2012
MOTIF NOIR
Par Leifsdottir
Removable shoulder pads
Fermeture éclair sur le côté
Soie; doublure en polyester
Nettoyage à sec
Longueur : 35 po
Importée
N° de style : 25175969
Leifsdottir's fall collection draws its inspiration from Finland in the late 19th and early 20th centuries, when the country was a grand duchy for Russia and emerged as a cultural capital for artists, poets and bohemians. The collision of Russia's old-world, pre-revolution grandeur, the rising Finnish art scene and the changing mood of the times are embodied in lush prints, luxe fabrics and impeccable tailoring. We love the outfitted ease of this mixed-print silk mini dress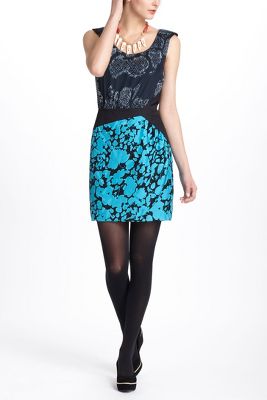 -->