Catégorie nulle
Abigail Shoulder Cape
nul
Coté

4,1

sur

5

par

7

les évaluateurs.
Coté

4

sur

5
par
turntrap
amazing (but sheds)
LOVED this! wore it over my wedding dress and looked perfect and kept me warm. ONLY downfall was the shedding. my dad had little bits of white fuzz on his clothes from just walking me down the isle. can be super dressed up or down. would say this might run small. fit snug in comparison to the photo online. worked for me.. usually i wear xs in most anthro tops and the s/m fit perfectly, so if you are on the broader side this may be too snug. absolutely beautiful and perfectly cozy.
29 octobre 2012
Coté

3

sur

5
par
shleedog
Great fall piece but shed everywhere
This is a wonderful piece to add to your fall wordrobe. I loved the large cables running across and the buttons are really cute. I had one problem with it though, when I put it on it got cream fuzzies all over the shirt I was wearing under it. Basically anything it came in contact with ended up having cream fuzzies on it. It was really cute but it is going back because I don't want to carry a lint roller with me everywhere. Maybe if it goes on sale I will reconsider.
9 octobre 2012
Coté

2

sur

5
par
Muffin
FELL OUT OF LOVE QUICKLY
Saw this online and thought it was love at first sight; after all, it looked fantastic on the bride who wrote a review. Just adorable on her. Then it arrived, and when I slipped it on it felt like I was wearing a straight jacket - there was no give or draping or anything. I love capelets, and I own three that I bought from Anthro. This, however, was not one I loved or even liked - and, I can see it snagging very quickly. This just goes to show you how love at first sight is over rated.
8 décembre 2012
IVOIRE
Style tricot
Laine, acrylique
Nettoyage à sec
Longueur : 13 po
Importée
N° de style : 25196775
Yellow Bird makes it a cinch to cozy up everything from occasion dresses to casual pullovers with this cabled cape; simply slip this thick-knit creation over your shoulders for unbeatable warmth.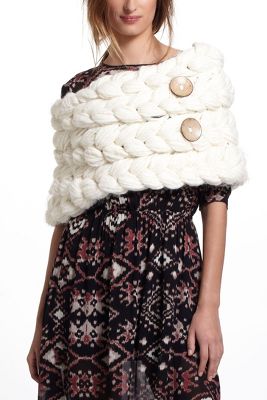 -->