Catégorie nulle
Vermeil Streams Cardigan
nul
Coté

3,6

sur

5

 par

5

les évaluateurs.
Coté

2

sur

5
 par
TheShoeQueen
Very ODD stiff ruffle!
The model is holding her hands as if they are in her pockets. They are likely holding the edges of the very stiff ruffle on the back of the sweater to keep them from standing out like an umbrella in front. When I tried on this sweater, the back ruffle stuck out so much on the sides that I looked like I was wearing an umbrella around my butt. NOT Flattering, to say the least. The trim fabric used is so thick and heavy that it stands out significantly at the bottom of this soft, beautiful knit. I sent this one back, very disappointedly, because the knit is beautiful, the gold trim is quirky and flattering. Just wish that darn ruffle had been made of soft satin too!
3 septembre 2012
Coté

5

sur

5
 par
inlovewAnthro
Beautiful and Feminine
This sweater fits a true to size to a tad big. The quality is top notch and I love that it has a peplum shape. It nips in at the waist perfectly. I wore it and received so many compliments! I paired it with the branched copper pullover. I can't wait to wear it again!
27 septembre 2012
Coté

2

sur

5
 par
Pelo
Loved the fabrics but looks like you have a tail!
I loved this when I picked it off the rack but the back lower trim sticks right out like you have a tail or some misplaced cloth on your sweater! It throws it off and just looks really weird. the shoulders are so cute, I wish the trim fell flat and didn't stick straight up!
23 novembre 2012
GRIS FONCÉ
Devant boutonné
Coton, cachemire
Lavable à la main
24,5 po L
Importée
N° de style : 25196841
Cardigans are our go-to piece for cozying up dresses when the mercury reads chilly. Yellow Bird's cashmere-kissed topper is adorned with femme details, from golden paillettes to feathery ribbon.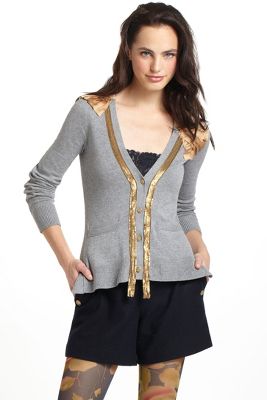 -->