Souliers plats D'Orsay brillants
Souliers plats D'Orsay brillants
nul
Coté

4

sur

5

 par

32

les évaluateurs.
Coté

5

sur

5
 par
texastwin
even men have complimented these shoes
I bought this shoe in black about a month and a half ago. I wear 8-8,5 in most shoes and the 39 fit perfectly. i get compliments on them all the time, i find them comfortable for 8 hours in the office. i recently bought them in blush wanting a nude color. they do have a bit of a pink hue to them which i don't mind since i'm pale and have a blue undertone to my skin anyway. someone who is pretty tan or has an olive undertone to their skin might think they're too pink if looking for a nude option.
le 15 mars 2013
Coté

5

sur

5
 par
CatATX
Love!
I'm unsure about this discomfort people are talking about in previous reviews. I wouldn't say these are the most comfortable shoes in the world, and I definitely wouldn't want to go jog a few miles in them... but I haven't experienced a huge amount of discomfort. As far as how the shoe looks... it appears a little darker in the pictures online than it actually is in person. That being said, the shoe is adorable. Very versatile. Definitely worth adding to your shoe collection. :)
29 septembre 2012
Coté

5

sur

5
 par
KyVintage
A little flare to the typical black flat
I feel like I ordered a different pair than many of the reviewers. With narrow but long feet, I often waiver between sizes 8 and 8,5 I chose size 39 because I'd read how tight they feel and that they tend to run small. After trying them on, this wasn't true for me at all. It's quite possible that I could've actually fit into the 38, though they probably wouldn't be as comfortable. Despite being a touch roomy, I do think they show more "toe cleavage" than the average flat. Some may not like that. It also feels like the top part of the shoe is a bit wider than I need, though that's better than the alternative. I like the transition from shiny to dull finish. It makes the shoe a little more interesting than the typical flats. These will now take the place of my incredibly painful pointy flats that I've used for the past year. I like these enough to consider buying them in the turquoise!
Le 10 mai 2013
ROSE
Par Pied Juste
Taille juste
Boucle ajustable
Tige et semelle intérieure en cuir
Semelle synthétique
Importée
N° de style : 25200395
Pied Juste a été conçu et créé exclusivement pour Anthropologie par les designers de renommée mondiale Kari Sigerson et Miranda Morrison. Simples, épurées et modernes, les chaussures Pied Juste résisteront à l'épreuve du temps avec style et substance. Le cuir bruni et la silhouette féminine de cette paire de souliers donneront une allure impressionnante à une robe étroite et ajustée.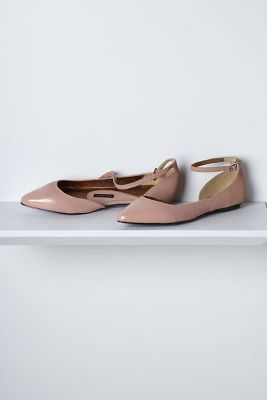 -->