Catégorie nulle
Souliers plats D'Orsay brillants
nul
Coté

4

sur

5

 par

32

les évaluateurs.
Coté

5

sur

5
 par
JudyT
At last!
I love this style of shoe and have tried them from so many other retailers. Sadly, they were all too small in length and width. I ordered these in a 41 (I usually wear a size 10,5) and then held my breath until they arrived. To my complete amazement, they are comfortable and they are gorgeous! The quality great and is on par with other shoes I have from the Sigerson Morrison Belle line. The color is saturated and the texture is very interesting. They are definitely my new favorite shoes and they look great with so many things in my closet. I am beyond pleased to have found such a gorgeous pair of ankle strap flats that fit comfortably at a great price!
31 août 2012
Coté

4

sur

5
 par
thirtyflirtythriving
Great staple shoe
I got these shoes in red, and I absolutely love how comfortable and timeless they look. They go well with sleek or feminine outfits alike. I liked them so much, that I recently got a second pair in black. I will say that the quality could be much better. The hook does not seem robust enough, the sole is thin plastic, and the gold footbed wears out within a few wears. I don't think that they are worth over 100 $ USD I am glad I got the first pair with a coupon, and waited for the sale on the second pair. Also, I am normally a 38,5 size in European sizing, but I did well with the 38. Despite the fair quality of the shoes, I love the way they look and how i can wear them all day long.
Le 2 juin 2013
Coté

2

sur

5
 par
ttmm
Beautiful but not wearable
I bought these shoes to wear at my wedding. They worked well for that since I didn't really need to walk very far. A week later I threw these on for the 15 minute walk up to the coffee shop. On the way home I needed to have my husband and mother slow down as I hobbled along beside them. The ankle strap doesn't keep the heel in the back of the shoe so my toes were continually being squished up into the front of the shoe. With some shoes it is a matter of wearing them in but I am pretty sure that is not the case with these. These are beautiful in person but that seems less important if I cringe at the thought of wearing them.
12 octobre 2012
ROSE
Par Pied Juste
Taille juste
Boucle ajustable
Tige et semelle intérieure en cuir
Semelle synthétique
Importée
N° de style : 25200395
Pied Juste a été conçu et créé exclusivement pour Anthropologie par les designers de renommée mondiale Kari Sigerson et Miranda Morrison. Simples, épurées et modernes, les chaussures Pied Juste résisteront à l'épreuve du temps avec style et substance. Le cuir bruni et la silhouette féminine de cette paire de souliers donneront une allure impressionnante à une robe étroite et ajustée.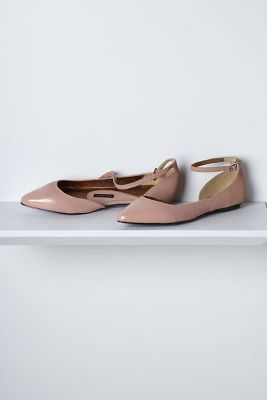 -->