Catégorie nulle
Split Shade Booties
nul
Coté

2,9

sur

5

par

7

les évaluateurs.
Coté

5

sur

5
par
Kayccee
The essential fall/winter/spring bootie
I had to have these the minuet I saw them in store. Great quality, great fit. The contrasting black and brown make it easy to pair with almost any outfit/color combos.The only thing I would warn ? they take a few days to break in. After that, you can wear them all day with little to no discomfort. I can definitely see these as a staple for seasons to come.
29 octobre 2012
Coté

5

sur

5
par
nyckat
stellar booties
Was hesitant to get these at first because at the time I ordered them they only had a combined 3 stars, but boy are these awesome! I am between an 8 and 8.5, ordered the 8,5 and it fits great. Usually a bit hesitant getting goes online because my feet can be on the wider side but these fit great. Wore them to brunch and errands with friends (a total of 7 hours) on my first time wearing them with no problems. The heel is low enough to be very manageable and actually adds to the comfort by supporting the instep. The booties are tall enough that my skinnie jeans can be tucked into them by about 1 inch, but still narrow enough where they do not gape at the ankle. Because they are do not gape there is not weird transition between the jean/boot giving a seamless look that i really like. The color difference between the brown/black is very subtle so these do not jump out as being 2-toned. Overall very happy :)
24 décembre 2012
Coté

3

sur

5
par
thefashioncritic
had all the right components
you'd think it would be perfect because it does look good....the heel kinda bothers me look wise....like it should be bigger or something...the quality of leather is really nice. the heel is also awkward and it is not comfy enough for full price in my opinion. another thing is there is no traction whatsoever...i paid full price and realized it was made of a nice slick thick leather (which is great in theory) but i am going to have to pay 40 dollars for a vibrum piece so i don't damage the shoe or fall from slipping. would consider at this price again.
19 décembre 2012
BRUN
Par Holding Horses
Taille juste
Style à enfiler
Tige, semelle intérieure et semelle en cuir
Talon enrobé de cuir de 2,5 po
Hauteur de 3,25 po
Importée
N° de style : 25271073
Booties are the epitome of versatility. What else can anchor skinny jeans, tights and minis or flowy maxis with equal aplomb? Our vintage Americana-inspired pair by Holding Horses lends a rustic look, too.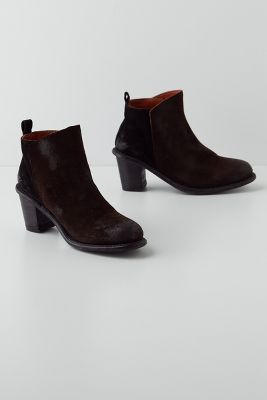 -->