Catégorie nulle
Fustanelle Jacket
nul
Coté

4

sur

5

 par

16

les évaluateurs.
Coté

5

sur

5
 par
Jackie717
Fustanelle Jacket
I could not disagree more with the negative reviews. I think this top is beautiful and unique. I have the peplum tank that's pretty much the same version of this shirt, and both fit in the medium (I'm normally a medium or 8/10) so I wouldn't agree that you need to size up, though I do agree that it is slim through the arms. I am short and I like the length and the placement of the peplum, but I could see this top feeling too short for someone who is taller. Overall I love the jacket and think it will look great with a lot of different things.
11 juillet 2012
Coté

2

sur

5
 par
bulgaros
Fustanelle Jacket
I was able to try this jacket at the store in XS Regular size. The fabric felt stretchy so I do not recommend to go one size up. You have to absolutely zip the jacket and if you unzipped, it looks funny. This jacket might work well for those who have flat chest like the model on the photo. If you have a long torso like me, the XS Regular size might work too. Lastly, I am not a big fan of low 'scoop neck' style and for the price point, I expect more for this 140 $ USD non-lined jacket.
3 juillet 2012
Coté

4

sur

5
 par
twiggytigris
Not for me.
The flutter hem on the bottom was a bit too theatrical for me. Im assuming that this jacket will look good on you if you are on the leaner side of the body shape spectrum. I am 5'2", 120 pounds - average - and it just accentuated my hip area so much that I felt it was too much. Also, I thought the sleeves were a little short because they were even kind of small on me. With all this said though, I wanted to like it a lot... the quality was excellent and it was just a beautiful piece overall. It just wasnt for me.
10 décembre 2012
NOIR
Fermeture à glissière à l'avant
Coton, élasthanne
Lavable à la machine
Petite : longueur de 22 po
Standard : 22 po L.
Importée
N° de style : 25302803
A subtle zip brings together a soft peplum and textured knit. By Ganni.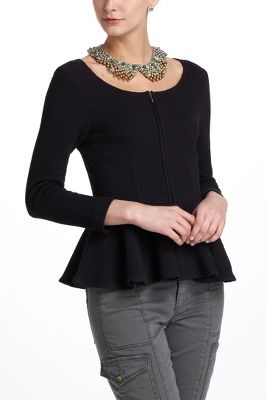 -->