Sailor Cape
nul
Coté

4

sur

5

par

3

les évaluateurs.
Coté

3

sur

5
par
captaincat
Cute, but no lining
I have been on the hunt for a cape-jacket for quite some time - something to transition from nippy fall winds to early winter. When I saw this, I immediately clicked add to basket. The design is quite nice - a nice A-Line shape without becoming too swing-y or full and the details on the buttons are absolutely adorable. (They are little anchors and rope twined around them.) However, for a 350 $ USD jacket, it should at LEAST be lined - but it isn't. The wool, while a nice quality, is wool - meaning that it is slightly scratchy to wear alone and too "porous" to keep out any winds. It was a nice idea, but sadly too expensive for a wool jacket that would be too warm to wear anytime but moderately chilly weather.
11 août 2012
Coté

4

sur

5
par
Tishy
Adorable but unlined
It's a great little piece that's infinitely wearable. Do I wish it were lined? Yes. However, I've found it to be ideal for transitional weather and easy enough to layer under when it's chilly.
28 novembre 2012
Coté

5

sur

5
par
Soaponarope
Versatile Favorite
This is what I am going to wear on the plane going on vacation. I wasn't looking for something heavily lined so I am delighted with my cape. Both my friend and I could wear this cape. I am 5'3",busty and have narrow shoulders and my friend is 5'9", smaller chested with wider shoulders. It really is one size fits all! I love the fact that it can be a pea coat over jeans or if I turn up the collar, the coat then becomes more dressy over dresses. What I like most is that it is classic and won't go out of style. To me this is an investment staple piece.
20 décembre 2012
MARINE
Imogene + Willie
Poches avant
Laine, coton
Nettoyage à sec
Longueur : 28 po
États-Unis
N° de style : 25473661
A lightweight, wool-cotton topper with double-breasted styling and a swingy, easy silhouette. Turn up the collar to ward off chills and show off natural canvas lining. By Imogene + Willie, the clothing line of Nashville-based Carrie and Matt Eddmenson, a married design duo with serious denim cred. They and their team handcraft most of their high quality, go-to basics in their gas station-cum-design studio, a place where they welcome customers, neighbors and passersby like family.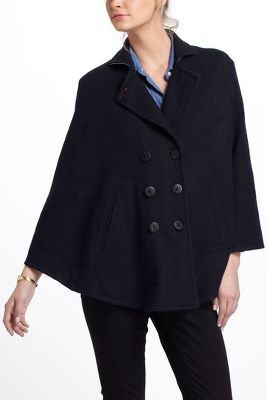 -->