Catégorie nulle
Pewter-Dusted Knee Boots
nul
Coté

3,8

sur

5

par

11

les évaluateurs.
Coté

3

sur

5
par
dml1
so pretty...but not practical
ok, I really REALLY really wanted to love these boots. they are beautiful and I had images of wearing them with jeans or a dress, with a wedge that I can actually walk in. HOWEVER: I would love for the person who designed these to give me a call and explain to me how I'm supposed to fit my foot into and out of these with the cute braided cord wrapped around them. Am I supposed to untie it and retie it around my ankle each time I take them on and off?? or just jam my foot and ankle in and try to scoot the cord over it? Also, the shaft of the boot is pretty narrow overall, not easy to get your foot into, and tight around my average-sized calf. while beautiful to behold, just don't understand how I'm actually supposed to wear these in real life (esp for 300 $ USD!).
18 septembre 2012
Coté

2

sur

5
par
antrhofan
Disappointed
I was so excited to receive these boots; however I really should have listened to the other reviews. The boots in design are flawed. They are really hard to get on, I think mainly due to the half zip and the narrow lower shaft. Having to take the cord off isn't that big of a deal to me, that's not the hard part. I have muscular defined calves and never have a problem with boots in regards to having to get extended calf, but these are extremely thin. I will say that the quality of the leather is fantastic and the patina of the leather is beautiful. Overall really disappointed with the design.
16 novembre 2012
Coté

5

sur

5
par
ACHNYC
Rock n roll with style
First of all, these look absolutely beautiful in person with their graceful design and slightly mottled color. I'm surprised that other reviewers had such difficulty with the fit - these are true to size on me and fit my calves with no issues (I'm thin but my calves have shape and are definitely not skinny).Yes, if worn with jeans, they'll need to be skinny jeans and might be snug. But I plan on wearing these mostly with dresses, skirts, and leggings. Also, I wore these for the first time today walking around NYC and they were comfortable. I DO agree with the other reviewers that the fact that the braided cord is not attached, but must be wrapped and tied on each time you wear the boots, is a silly design flaw. However, these look very sexy yet rock n roll and will be sure to earn you many compliments.
10 octobre 2012
Étain
Taille juste
Fermeture éclair sur le côté
Tige et semelle intérieure en cuir
Semelle synthétique
Semelle compensée de 3 po entourée de cuir
16,5 po de hauteur; 14,5 po de circonférence
Importée
N° de style : 25479510
Pied Juste a été conçu et créé exclusivement pour Anthropologie par les designers de renommée mondiale Kari Sigerson et Miranda Morrison. Simples, épurées et modernes, les chaussures Pied Juste résisteront à l'épreuve du temps avec style et substance. The wrapped braid detail at the ankle of this tall pair adds a bit of boho texture to counter the metallic sleekness.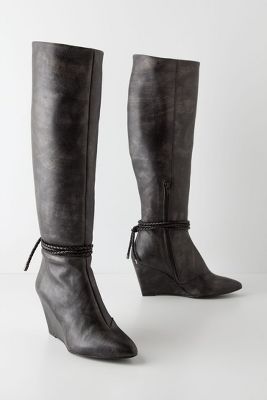 -->