Catégorie nulle
Metallic Streams Dolman
nul
Coté

3,8

sur

5

par

4

les évaluateurs.
Coté

3

sur

5
par
iloveboots
A cut sweater but not really as shown...
I loooooved this sweater and stalked it to sale, wondering why no one had bought it yet, and excited to finally get my hands on it... it was quite a disappointment. It doesn't look much like the picture in my opinion. It's much more metallic-y (with some of the bits falling off when you touch the sweater) and not nearly as fluffy looking - it falls quite heavily and doesn't look cozy. I don't know how the model got the bottom to tuck under, as the hem on mine would only fall straight down - very heavy. Still, it's a cute sweater, just not what I was expecting, not like shown, and not worth the price in my opinion. It was tts, I took my usual xs and it fit fine - not quite as long as on model though. I was hoping this would be a good holiday sweater for not-really-dressy events, but I don't think it's a keeper at the current price. It's quite delicate as well and I'd worry about all the bits falling off constantly.... I don't NOT recommend it, it's just not likely to be what you may expect...
15 octobre 2012
Coté

2

sur

5
par
Andielovesanthro
A hot mess
This sweater looks nothing like the picture. It's gold gold yarn throughout and looks totally Palm Beach. Plus the material is on the gross side - fuzzy and old looking. lastly, it's got a weird almost v-neck collar. Totally doesn't match the sweater. Not worth it even on sale.
17 octobre 2012
Coté

5

sur

5
par
Mmmmm
Very comfy
Very comfortable and festive. I ordered a large because I don't like tight sweaters....but I should have ordered a medium. Sleeves are caftan like so very roomy. My daughters really like it on me.
24 novembre 2012
DORÉ
Viscose, nylon, lurex
Lavable à la main
23,5 po L
Importée
N° de style : 25517590
Slouch, stripes and a whole lot of cozy is our mantra for this season's sweaters. Try pairing Yellow Bird's textured pullover with colored denim for a hue-injected ensemble.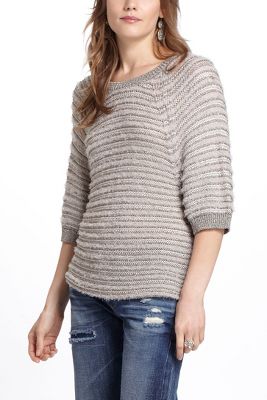 -->