Hedgerow Corset Sheath
nul
Coté

4,1

sur

5

 par

8

les évaluateurs.
Coté

5

sur

5
 par
SuzyCL
Absolutely beautiful!
I am SHOCKED that this dress has gone down to such a cheap price. I'm even more shocked that there are still sizes left. This dress is beautiful. The picture absolutely does not do it justice. The pictures in person is much brighter and simply BEAUTIFUL. The material is great as well. My friend wasn't impressed online but when she saw mine, she ordered it immediately. The only negative is that the bust is a little small for the well endowed. I'm a 14 and it fits, but it does show some cleavage, which I don't like. I plan on building up the bust with black ribbon that matches the band. This dress is stunning, this picture is truly not even a close representation of the beautiful color and nice material.
6 décembre 2012
Coté

3

sur

5
 par
DaBen
Designer is Moulinette Soeurs. I ordered a dress through Anthro by the same designer last year (that I love, love, love!) in regular 0 and had to have the length and bust altered (shorter and smaller). Ordered this dress in petite 00 and found the fit to be true to size, hitting just above the knee, excepting the bust. Much too tight, and I am straight and slender. The dress can be worn strapless and has a gel lining along the inside top, it is also padded so no bra is required. The straps I was sent were hopefully just a one time error, but they were cut so short that when I let them all the way out, the bust line came to my mid bust... Very uncomfortable! Made from 98 % polyester and 2 % spandex, so not very stretchy for a bandage fitting dress. The back has a 4" slit. Top is corset so there is boning. The dress also is textured, so that is different. Lining is satin, so it kept making the skirt ride up. For the price, I expected the quality to be better. I don't know anything about nips and tucks, but to have the bust let out, if it could be, just wouldn't be worth the price of having it tailored for me. The colors are absolutely STUNNING for fall and winter. I will be exchanging mine for another Anthro product since this just looked average on me, but I do suggest trying this on because every lady is different!
28 septembre 2012
Coté

4

sur

5
 par
retrochic
Stunning
I tried this dress in a 6. Fits true to size but I am pretty small busted. This is not for the faint of heart though, as it really fits every curve. I accessorized with the Verdant Stone Collar necklace picking up the hint of green in the pattern. The added sparkle and color at the throat was rather amazing. To finish of the look, I paired it with the Petal Scallop pumps. The subtle pewter tone of the heels was just right for the washed pattern of the dress. Overall the look was ladylike with a hint of siren to it. If you have holiday or wedding parties in the coming season I would try this dress and accessories. Plus you can pair the dress with a simple cardigan or pullover and have a great casual sweater and skirt look too.
7 octobre 2012
MOTIF POURPRE
Par Moulinette Sœurs
Fermeture éclair sur le côté
Polyester, spandex; acetate lining
Lavable à la machine
Standard : 34 po L.
Petite : longueur de 32,25 po
Importée
N° de style : 25576463
Occasion dresses are rigueur at fall weddings and galas. Donned along with your fanciest jewels, they pair perfectly with cropped cardigans and shrugs. Here, Moulinette Soeurs' structured faille frock evokes a rose garden at dusk.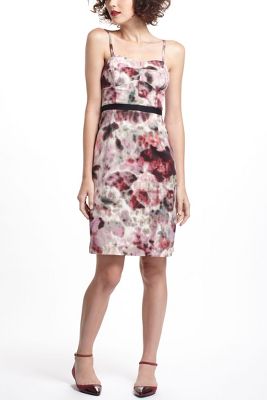 -->