Dimensional Petals Cardi
nul
Coté

4

sur

5

 par

10

les évaluateurs.
Coté

4

sur

5
 par
Pixie281
Not the best fit for petites
I fell in love with this cardigan when I first saw the pictures in the catalog and online. However, when I tried on my usual size XS, I found that it ran large and was quite baggy in the waist area (I have a 25-inch waist). The flowers on the cardigan are pretty but very large, and I think they may overwhelm my petite frame (I'm 5'3"). The sweater is thick and seems to be of good quality.
2 octobre 2012
Coté

5

sur

5
 par
indigobunting
Old School Anthro Aesthetic
This cardigan is every bit as beautiful in person as it looks online. Simply gorgeous! It is a slight bit itchy underneath, but nothing a cami wouldn't take care of. The fit is generous. Typically a size 6 in tops (thought at times I need a 4, and I have zero chest mind you) I usually opt for a size medium in cardigans because of my shoulders in Anthro's other brands like Moth, HWR, Leifsdottir. But I needed a small in this one. The medium was giant and shapeless on me. So keep that in mind.
2 octobre 2012
Coté

5

sur

5
 par
MrsItten
Totally as pictured...
I took my usual size Small and it fit perfectly. This is such a festive sweater for the holidays...not sure what the problem is with others' reviews regarding the size of the flowers...ornamentation is proportionate and can be viewed easily in photos - The only thing I would add is that the small shiny decoration and beading is even better in person!
10 décembre 2012
MOTIF NEUTRE
Devant boutonné
Wool, alpaca
Lavable à la main
Longueur : 24 po
Importée
N° de style : 25577784
This season, we're topping our fitted dresses and pencil skirt-and-blouse combos with cropped cardigans like this one from Yellow Bird - they accentuate the waist and add another color to your palette.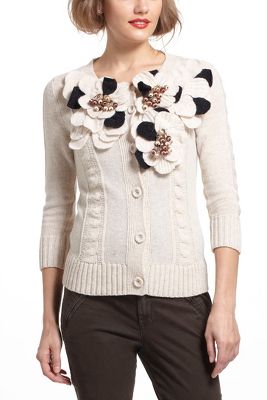 -->