Dimensional Petals Cardi
nul
Coté

4

sur

5

par

10

les évaluateurs.
Coté

4

sur

5
par
Pixie281
Not the best fit for petites
I fell in love with this cardigan when I first saw the pictures in the catalog and online. However, when I tried on my usual size XS, I found that it ran large and was quite baggy in the waist area (I have a 25-inch waist). The flowers on the cardigan are pretty but very large, and I think they may overwhelm my petite frame (I'm 5'3"). The sweater is thick and seems to be of good quality.
2 octobre 2012
Coté

5

sur

5
par
indigobunting
Old School Anthro Aesthetic
This cardigan is every bit as beautiful in person as it looks online. Simply gorgeous! It is a slight bit itchy underneath, but nothing a cami wouldn't take care of. The fit is generous. Typically a size 6 in tops (thought at times I need a 4, and I have zero chest mind you) I usually opt for a size medium in cardigans because of my shoulders in Anthro's other brands like Moth, HWR, Leifsdottir. But I needed a small in this one. The medium was giant and shapeless on me. So keep that in mind.
2 octobre 2012
Coté

1

sur

5
par
Georgiakd
Ewwwww
I hate to leave negative reviews, especially since in the pic this looks so beautiful. This was supposed to be my fab piece for fall. BUT It was itchy like it was made of low grade wool. It was boxy fitting and the appliqués were HUGE like massive Christmas ornaments stuck to the sweater. It was so disappointing. I would never wear it. I wouldn't even purchase on sale. How sad is that? Back it went. I feel bad, but I have to tell the truth!
12 octobre 2012
MOTIF NEUTRE
Devant boutonné
Wool, alpaca
Lavable à la main
Longueur : 24 po
Importée
N° de style : 25577784
This season, we're topping our fitted dresses and pencil skirt-and-blouse combos with cropped cardigans like this one from Yellow Bird - they accentuate the waist and add another color to your palette.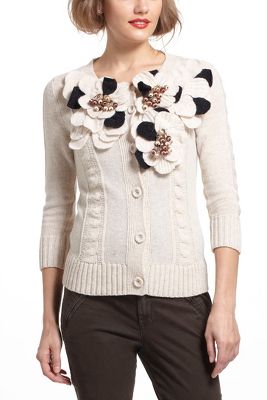 -->