Catégorie nulle
Amapolas Banded Midi Dress
nul
Coté

3,2

sur

5

par

9

les évaluateurs.
Coté

2

sur

5
par
VelvetGirl
really wanted to love it...
First: the material is not jersey, as described. It is a substantial woven material with a nice drape. Very very pretty, but... The quality issues: 1.. The top "X" across the bodice drooped! It looked horrible! I couldn't make the strips lay taut, even though the underlying bodice was taut. It was not because the dress was too big, it was just made that way. 2. There is no stretch, and the 12 was too tight around the arms for me (I am generally a 12-14 in a dress.) 3. I thought I'd be stuck wearing the dress forever and ever after, because the side zipper stuck fast at the top side of the "X" and I couldn't take it off!! I started getting quite worried. It wasn't jammed, the zipper is just is of poor quality and couldn't get past those extra layers of fabric. It wouldn't budge. Hopefully you are looking for a dress of woven material, and yours won't have these same quality issues. I finally managed to get the dress off, and it is going back.
14 septembre 2012
Coté

3

sur

5
par
CelluloidFancy
Lost in Translation
A wonderful concept dress that has a very modern greek goddess feel to it! The wildflower patterned fabric is a bit heavy, but soft to the touch and very flowy and comfortable. It is really so visually beautiful to see the orange colored fabric combined with the stark dark black criss-cross straps! Unfortunately, the black criss-cross straps do not stay in place and the fabric gathers and bunches between the straps - all around the upper torso. I am sure this was not suppose to be the case, but I could find a way to make it lay properly. It requires a lot of re-arranging and even then the result is very unflattering. The zipper is also very hard to open and close. It was not an easy dress to get into or out of. In the end I returned it as the it required altering and too much effort. The dress would be perfect if not for the design of the straps. I was VERY dissappointed as a it IS an amazing dress!
4 janvier 2013
Coté

5

sur

5
par
catchondo
FITS PERFECTLY
I saw this dress online and once again ordered my usual size 0 and when it arrived i tried it on and it fit exactly as it looks in the picture. It is very pretty and feminine and well made. It is not a dress that will look good on larger frames because there is no stretch if you are slender and have a smaller frame in general it should fit very well. You do not have to be tall as I am only 5'5" and weigh about 115 it looks great on me. It is a lovely dress and I am glad i bought it.
21 septembre 2012
JAUNE
From Treasure by Samantha Pleet
Fermeture éclair sur le côté
Rayonne
Lavable à la main
Longueur : 50 po
Importée
N° de style : 25692336
New York-based designer Samantha Pleet was inspired by the symbolism and mythology of Renaissance and Romantic paintings when designing her second Made in Kind collection, named Treasure. Relying on a vibrant color palette, graphic prints and a variety of soft, sueded and sheer fabrics, Treasure is at once timeless and modern, fluid and structured, painterly and practical. This black-strapped jersey dress begs to be paired with similarly strappy heels and oversized gold jewelry.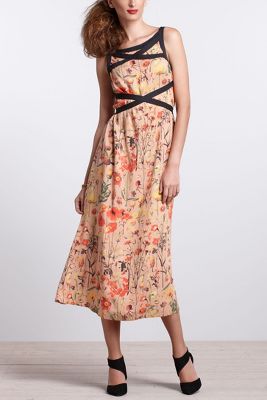 -->