Catégorie nulle
Cynosure Mobile Earrings
nul
Coté

3,7

sur

5

par

6

les évaluateurs.
Coté

5

sur

5
par
prettyinpinknwhite
Gorgeous!
I bought these in white and I absolutely love them. What's nice is that they're surprisingly versatile--you could wear them to a fancy fete, or you could use them to dress up a plain jersey dress for dinner. The only con is that the stones look a little cheap up close, but overall they're pretty enough that it doesn't matter too much. Definitely a purchase I'm proud of!
19 août 2012
Coté

5

sur

5
par
JaneDarling16
Beautiful and romantic!
I will be wearing these earrings for my December wedding! This is a review for the white pair - they're very pretty and sparkly, and not at all heavy for how long they are. The only call out is that they are definitely white (whereas they look almost clear in the picture), but the shimmer in them makes them a soft white, almost a candelit white. Gorgeous!
17 août 2012
Coté

4

sur

5
par
KarenNYC
Chic and fun earrings
I just bought these in fuchsia, in a store, and they are fabulous. Bright and fun, but still delicate. Not at all tacky or overwhelming. Note: The photos here don't show the colors accurately: the fuchsia is much more vivid and deeper in person, and the metal is a dark pewter (iron) color. The quality of Anthro-brand jewelry is unpredictable, so who knows how long these will last. For now, though, all the stones are still intact and I can't wait to wear them on my next night out.
10 août 2012
BLANC
Base metal, acrylic, glass
2,5 po L, 1,25 po l
Importée
N° de style : 25706854
Sparkle-rimmed droplets unite to create these delightful danglers.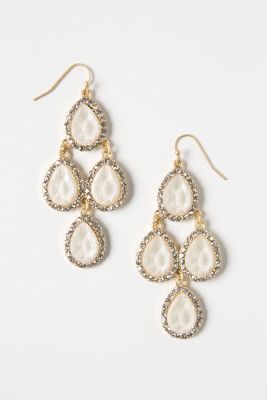 -->