Catégorie nulle
Pointed Stripes Tee
nul
Coté

3,9

sur

5

 par

7

les évaluateurs.
Coté

4

sur

5
 par
MaryinNY
Cute neckline design
The frabric of the top has a nice texture and weight to it that it's not sheer but is still comfortably light weight. The diagonally pointed neckline drop is cute but opens wide from shoulder to soulder that sometimes reveals the bra straps. Runs TTS to me (5'4", 105lbs , 32B). An overall nice top.
31 juillet 2012
Coté

5

sur

5
 par
Lieutenant
Terrific Origami Tee
I love this top. It's simple but the folded collar makes it just that different, and elevates it into something individual. The fabric is substantial enough that you don't see through it and easily slides over the body, not hugging any lumps & bumps. Fabric has some texture to it so it's also good for Fall under a light jacket as well as for warm weather. It runs long on me so I am going to shorten it (I am petite). If there is one thing that I was not totally happy with, it was the sleeves. On the model it looks like a true sleeve, but in person it's more like a cap sleeve, longer on the outside arm, but not as long as on the model, with almost no fabric on the underarm-where I need it. My underarms are not firm and I never wear sleevless or cap sleeves, and lifting my arm in this top it's noticeable. But I like the top so much I am going for it!!
7 octobre 2012
Coté

5

sur

5
 par
YorkshirePudding
Looks even better in person
This is one of my new favorite tops! The darker gray horizontal stripes are actually darker than shown on the screen -- about 90 % black -- which I love even more. The fabric is soft and light, and the asymmetric neckline is extremely flattering. When I took out the Tee, I was sure it was a hand-wash garment but the label says "machine wash cold gentle" -- so, yay! I'm 5'0", weigh around 105lbs, chest 34A, and the XS fits perfectly.
6 novembre 2012
MOTIF GRIS
Polyester, rayonne, élasthanne
Lavable à la machine
26,25 po L
Importée
N° de style : 25751488
A new take on the classic motif, this textured and heathered top is fitted with a pointed collar.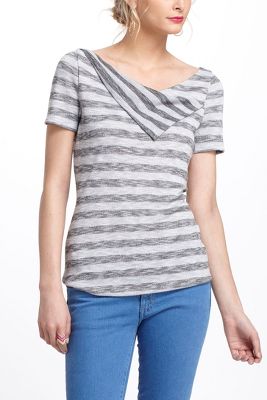 -->