Catégorie nulle
Cablepom Cardigan
nul
Coté

4,1

sur

5

par

15

les évaluateurs.
Coté

4

sur

5
par
eliza
lovely sweater, slightly awkward construction
This sweater is beautiful, but is constructed so that the top of the sweater is a lot heavier than the bottom half. This makes it hang somewhat awkwardly, which is not obvious from the photos. I liked the high collar, but had trouble buttoning it so that it hung as nicely as shown in the model. Also, it does not look good unbuttoned mainly because all the wait of the detail on top makes it hang open in odd ways. Overall nice piece, but I'm not sure if it's worth the $$.
17 novembre 2012
Coté

4

sur

5
par
pjaalt
neat sweater
I really like the look of this sweater, just not on me. The colors are great in person and it's soft enough. However, I am really petite and it was just a little too long and boxy on my frame (5'2", 101 pounds, 32A-25-32, tried on XS). I would reconsider though once it's on sale, because it's really a nice sweater. It looks great with the collar open or buttoned all the way up. A taller, curvier lady tried on this sweater at the same time as me and she looked fantastic. She wore it completely unbuttoned over a tight tee with a scarf and the look was perfect. Speaking of the buttons, the ones at the top are really hard to get through the button holes.
17 novembre 2012
Coté

5

sur

5
par
ForeverFun
Thankfull I did not listen
I heard the reviews. But I loved the style . I'm so glad I bought this one. Its soft, thin( I'm always hot) and cozy.Flattering for a sweeter. Lots of complements on this one.
5 décembre 2012
GRIS FONCÉ
Par Sleeping on Snow
Wool, cotton, acrylic, nylon, viscose, camel hair
Lavable à la main
Longueur : 27 po
Importée
N° de style : 25813726
When it comes to winter sweaters we say the warmer, the bigger, the better. The oversized collar on Sleeping on Snow's wool-blend cardi makes it twice as cozy.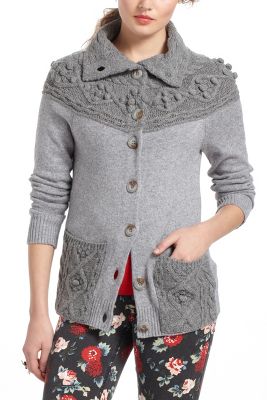 -->