Catégorie nulle
Jewel In The Rough Pouch
nul
Coté

3,7

sur

5

par

10

les évaluateurs.
Coté

5

sur

5
par
Eyesoftheworld
Amazing Statement Piece
I just received the blue clutch as a gift, it was love at first site. I wore it with jeans one day and got a ton of compliments! Then I wore it again with a formal gown to a black tie wedding, it was the talk of the table. Great bag, beautiful turquoise color, a little flimsy but like the other review said more sturdy when its full. Get it! Get it! Get it!
2 octobre 2012
Coté

3

sur

5
par
jenn52
Gorgeous but...
I fell in love as soon as saw this bag online and knew I had to have it. I anxiously awaited its arrival but was immediately disappointed. It arrived via USPS mail. The color is just as shown - a beautiful Tiffany blue, maybe a shade lighter. It's a great color! I saw that one of the jewels was missing. Upon taking it out of the plastic bag it arrived in, I noticed that a couple of the beads and another jewel were loose inside the bag. The prongs on the bag were barely holding in the jewels on the bag. Very poor craftsmanship. The spots where jewels are missing are eyesores. Threading was starting to come apart at the bottom center of the bad. I took it back to the store, where I received excellent customer service as usual. Perhaps I received a defective bag? I decided to order another one in the hopes that it will be in perfect condition and made better than the first. Fingers crossed because it is a gorgeous pouch!
13 octobre 2012
Coté

4

sur

5
par
Laurenclare
The colour of this pouch is definitely mint, not as pale blue as it looks in the photo. It was a bit bigger than I expected, and not as solid as I thought it would be, but when its filled it shouldn't be a problem to carry. It looks really classy and the bead works seems pretty solid, but does come with a few spares in case. Should be perfect with a black outfit or contrasting colours!
13 septembre 2012
CORAIL
Plastic, polyester, linen
6,5 po H., 9 po l., 0,25 po P.
Importée
N° de style : 25835430
Sure they make handy evening bags, fancy makeup totes and enviable pencil cases, but we adore these beaded zip-ups for one very specific reason: they hold more gifts! Our online personal shopper Christina agrees: ¿I¿ m buying several, and depending on whom it is for, I¿ll stuff each with earrings, a roll-on scent and lipstick, or a gift card.¿ Brilliant, no?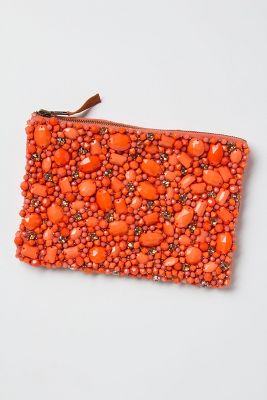 -->