Catégorie nulle
Jerez Silk Buttondown
nul
Coté

3,7

sur

5

 par

6

les évaluateurs.
Coté

3

sur

5
 par
reneew
Great Colors, but Poor Design
In a fitted blouse, which, as it turns out, this one is, I usually take a size 10. In this silk top, I had to size up to a 12, and the top button still created a large gap. When I pulled the top back together, it lay correctly. But the minute I moved, the gap opened back up. It is as if there needed to be buttons placed closer together. This could be fixed, perhaps, but for the price I expect the top to be better made. For reference, I am a 34D. I am also broad shouldered. I love the fabric. It is silk, and the colors are really lovely. The light pink in the top shows up as an unexpected pop of color with all of the blues in the blouse. The sleeve length is elegant. I do like the fabric enough to consider trying to have the blouse fixed, but not at full price.
21 janvier 2013
Coté

2

sur

5
 par
RABikes
Beautiful blouse but poor construction
I bought this blouse in a size 10 online but returned it for a 12 as the 10 was too small across the chest (I normal wear 10). I wore the size 12 blouse one time and notice it was pulling apart in the seams so had to return it (the 12 wasn���t too small). I asked the Anthro store try to find a replacement for me which they did at a store in Northern CA. I had the girl at the Anthro store look over the replacement blouse before purchasing it over the phone and she told me it was pulling apart in the seams also. There must be a problem with how this blouse was constructed. I am so disappointed as I thought the blouse was so pretty.
le 20 mars 2013
Coté

5

sur

5
 par
LilyLane
Beautiful Shirt
My new favorite shirt! The colors in this shirt pop much more in person. It is easy to dress up for work or down with a pair of jeans. Plan on wearing a cami underneath as it is a bit sheer.
30 novembre 2012
MOTIF BLEU
Par Leifsdottir
Devant boutonné
Soie
Nettoyage à sec
Longueur : 26 po
Importée
N° de style : 25872441
Leifsdottir s'inspire de l'histoire et des traditions scandinaves pour créer des pièces et des accessoires coupés d'une main de maître, qui combinent une esthétique contemporaine à un goût du passé. This slinky blouse lends a graphic edge to skinny pants or pencil skirts.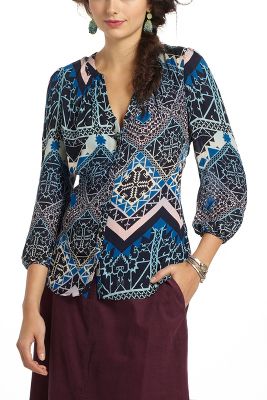 -->