Pilcro Serif Paisley Leggings
nul
Coté

4,5

sur

5

par

17

les évaluateurs.
Coté

5

sur

5
par
robinsonbuilders
super seventies rockstar
Great bold pattern and the material is super soft, stretchy, yet a cord. Being 5'4", 120lbs with a bubble booty, pants are not easy for me to find that are flattering. The 26 was perfect. I would never imagine that such a bold pattern would minimize my behind yet complement my figure at the same time. My husband saw them and immediately screamed, 'seventies rock, yeah!' Not for wallflowers, the colors are much more vibrant than they appear online. A denim shirt paired with riding boots is casual rocker. Eggplant long-sleeved cotton crew with black ankle boots makes the pants a little more sophisticated.
26 octobre 2012
Coté

5

sur

5
par
drydenlane
quirky, fun, awesome
I love these pants so much. I don't wear pants that often (much more of a dresses and skirts with tights kind of gal), but I'm pretty sure I'll be wearing these as much as I can get away with it. I really love bold, statement pieces. These pants are unique and they stand out. I got tons of compliments on them and felt really great. At first I worried my usual size 29 (I'm 5'9" and curvy on the bottom) didn't fit, but it's because these ride a little higher than the usual low-rise jeans I wear--and I love that! The fit is TTS. This is my first time wearing jean/cord leggings, and it's worth noting that the front pockets are not really pockets. Not a huge deal, but I was a little surprised. Despite the unique print and bold colors, I think these are actually pretty versatile and awesome.
5 janvier 2013
Coté

5

sur

5
par
valentinew
super bright fun pants
I had to try these on once I saw them in the store, not necessarily because I thought I was going to buy them, but because when I saw them I thought they were immediately SO AWESOME. It turns out they are also really really comfortable, because they are very stretchy and soft. They do look bright on the model, but I actually love them with a white/tan solid sweater--I don't find them overwhelming, but I do like to wear brightly colored things, especially in drab weather/winter months. After I tried them on I knew I had to have them! For reference, I am 5'4" 112 lbs, got the 26 and they fit perfectly, though with the stretch I think 25 would have done just fine.
29 décembre 2012
Combo #2 Rust
Par Pilcro
Cinq poches
Coton, élasthane
Lavable à la machine
Standard : 31 po L.
Petite
Hauteur de taille: 8,5 po; cheville : 5,5 po
Importée
N° de style : 25872623
Try slipping on these slims with a striated top for a clever spin on mix-and-matching; stripes pop even more when paired with a print. Une exclusivité Anthropologie.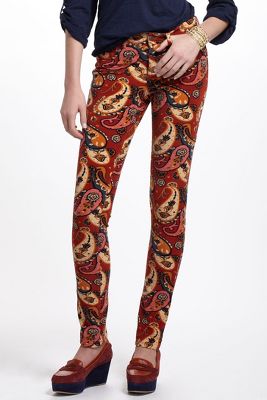 -->