Catégorie nulle
Robe Silverfield Sweetheart
nul
Coté

4,2

sur

5

 par

26

les évaluateurs.
Coté

5

sur

5
 par
riskanti
Makes the "girls" look INSANE
What I like about this dress (I got the light blue) is that it takes a usually girly cut and design (I'm a sucker for back cut-outs like this one) and bumps it up to sexy. The neckline makes this dress an easy go-to for a night out and does wonders for your cleavage. With added bonuses like pockets and a thicker slip (makes it easy to wear both in winter and summer), there's little NOT to love about this dress. I'm 5'3", 34D, 135, and this falls a few inches above my knees. Also super easy to dress up or down.
20 décembre 2012
Coté

5

sur

5
 par
EtreEtant
Darling all-season dress
Saw this on the sales rack and had to try it on--- got it for an extra 30 % off today, so it was a super steal. Super cute dress-- I was worried it would be a little young for me, but the skirt length saves it; any shorter and it would've been edging on little-girly. The color is brilliant, it's comfy, and will be the right weight for winter (with tights and a cardigan or jacket) and spring. May be too heavy for summer, but I live in AZ, so probably will work for others in cooler locales. One note-- I'm very small on top--- I could see this not working for more well-endowed ladies.
26 décembre 2012
Coté

4

sur

5
 par
eagle017
Nice dress
"A good staple," is the phrase that comes to mind. Nothing about this dress is flashy or over-the-top. It's just a cute, good quality, versatile piece. Both the lace and the sweetheart necklince give it that something extra that you might not find in another staple dress. As for the fit, it's definitely not for the full-breasted woman. I am tall and thin with a small 34C cup and when I tried the XS, ain't nothing else was fitting into that chest area! The rest of the dress was fine; I am slim-hipped and had no problems with the booty area or looking at the dress from the side. Besides the small chest, the dress is very cute, comfortable & stylish. Can be worn with virtually anything and for almost any event, depending on how you dress it.
2 décembre 2012
ROSE
Par Deletta
Dos découvert
Fermeture éclair sur le côté
Coton, nylon ; doublure en polyester et en élasthanne
Lavable à la machine
36,75 po L
Importée
N° de style : 25877408
Nous aimons la façon de laquelle la dentelle injecte de la féminité dans les morceaux de coupe-tailleur et structurés. Try slipping a cropped blazer over Deletta's cutout frock for a girl-meets-boy look.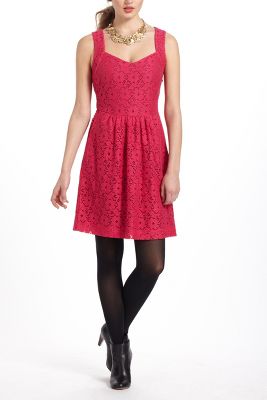 -->