Mika Ikat Shift
nul
Coté

4,7

sur

5

par

9

les évaluateurs.
Coté

4

sur

5
par
reneew
Lovely Dress but Challenging Fit
The design of this dress really is special. However, the fit is problematic. For reference, I am short waisted, wear a 34D and have broad shoulders. I am a size 10 in a fitted dress, but I wear a 4/6 on the bottom. This dress in a 10 was too wide on the bottom for me, and it was too fitted in the bust. I would have had to go up a size to fit the chest, and it would have been even wider on the bottom. If you are pear shaped, this is going to fit you better than it did me. If you are short waisted, however, this dress is a pass. The torso of the dress is long, so if the bust is placed in the correct area, there is an inch or so of extra fabric at the shoulder. If not for the wider bottom half of the dress, I would have considered having this on altered at the shoulder. Too bad, though, because the design is really interesting.
24 décembre 2012
Coté

5

sur

5
par
frognotter
Awesome!
Love!!!! Amazing quality and details on this dress! Much better in person too! I ordered a size 2 and its perfect. I wore with navy suede knee boots and tights. I am 5'4" and 118#. I am curvy and it is very flattering on and fits true to size. You will not be disappointed with this dress!!!
30 décembre 2012
Coté

4

sur

5
par
pulpitabonita
Not for shorties
This dress is beautifully made, but, if you are under 5"6" or so, it might not be a fit for you. I'm 5"4" and normally wear a 6 or an 8. I ordered this dress in both sizes. The 6 was too form fitting, but the 8 was much better. The problem was that, even being as busty as I am (30G), I didn't fill out the top. It stuck out from my body at the split neckline and my bra showed A LOT under the arms. If I were a couple of inches taller, I'm pretty sure it would have worked. I thought about having it altered, but, if the dress were pulled up to take up the slack. the fit on the bottom half was all wrong, leaving a weird pooch of loose fabric at the belly. I thought that it would be too difficult/expensive to alter because of the beautiful pleating, so I had to pass on this gorgeous dress. So, if you aren't lucky enough to be tall, I think you might have the same issue. But if you are tall, go for it because it is stunning!
le 20 mars 2013
MOTIF BLEU
Par Floreat
Fermeture à glissière au dos
Coton, polyester; doublure en acétate
Nettoyage à sec
Standard : longueur de 35,75 po
Petite : longueur de 33 po
Importée
N° de style : 25885575
We¿re smitten with holiday dresses that aren¿t strictly occasion wear; perfect for the office, luncheons and events that take place long before the tinsel¿s hung, Floreat's frock, which was inspired by a Japanese novel, can be made workplace-ready with the simple addition of a fitted blazer.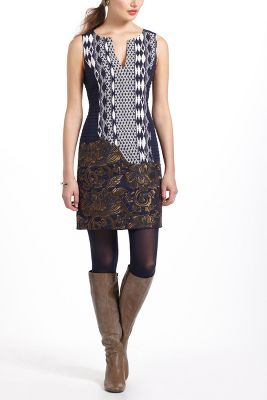 -->