Catégorie nulle
Stitched Loma Coat
nul
Coté

3,2

sur

5

par

5

les évaluateurs.
Coté

2

sur

5
par
AnthrophileForever
Beautiful, but VERY snug fit....
I just tried this jewel on today, and it was very well made and the fabric is very heavy...Sadly the arms are a VERY narrow fit and the back flares out, under the waist...not flattering for a well-endowed bottom...Even on sale, I'm not sure about this....I had to go up two sizes for a comfortable fit....
10 décembre 2012
Coté

5

sur

5
par
tracyreeseaddict
GORGEOUS
This is my 5th Tracy Reese coat, I think I just might like this one the best. It is a much heavier, warmer coat than the ones she usually makes. The embroidery is much prettier in person and the inside where the buttons meet are lined with a velvet-like material that also is trimmed on the sleeves and in with the embroidery. I sized up one size and it fits like a glove, even with a weighty sweater underneath. If you a lover of Tracy Reese and her beautiful things, this is a great purchase. I wore it out once and received numerous compliments, which is pretty usual when I wear one of her coats. They all make a statement. My first coat from her (the eliimnova coat from 4 or 5 years ago) still looks brand new! I would definitely recommend sizing up one size however, especially if you want to layer. I am 5'4" and this coat hits me just above the knee. Also got it for a great price with it being 50 % off and using the 25 $ USD off every 100 $ USD promotion they had recently.
19 décembre 2012
Coté

5

sur

5
par
Soleigirl
Cute fit!
I was hoping this coat would go on sale before Christmas and was thrilled to find it in the sale section yesterday. This coat is beautifully made, lovely colors and very unique. It does fit on the small side although I did get a 0 , it was all they had-(usually wear a 0 or 2) and I won't be able to wear it with any bulky sweaters or tops underneath which is fine, I have other coats for that. The top fits snugly and the bottom does indeed flare out-although I believe it was quite intentional and adds to the charm of the coat. I tried it both with skinny jeans and boots and flared pants, both look darling with it. Not sure how it will look with a skirt, but I'll find out soon!
19 décembre 2012
NOIR
Par Plently de Tracy Reese
Fermoir
Poches avant
Polyester, wool, acrylic, cotton; polyester lining
Longueur : 32 po
Importée
N° de style : 25904442
Plenty de Tracy Reese se caractérise par des jumelages de couleurs vives, des imprimés graphiques et des détails bohémiens complexes. Éclatante de textures et de motifs inattendus, cette collection d'inspiration globale met en évidence l'attention aux détails qui caractérise Reese, par de riches broderies et d'autres ornements originaux. This expertly tailored coat proves winter layers need not be oversized.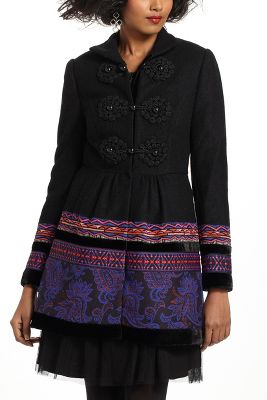 -->