Catégorie nulle
Velveteen Cowlneck Poncho
nul
Coté

4,2

sur

5

par

10

les évaluateurs.
Coté

4

sur

5
par
RachDC
has hidden velvet!
This is a great little poncho, very cozy and warm. Although, I cannot for the life of me figure out how they got the neck to sit as shown on the model ? for me to get it to sit like that I had to kind of tuck it all in the back of my neck and sit real still ? the moment I moved the top flopped open really wide and looked totally bizarre. I wore it w/the top two buttons unbuttoned which showed a pop of color from the grey/blue velvet trim, which looked fine but creates more of a open cowl neck look ? which is fine, but not what I was hoping for (I have the similar one from last year).
15 novembre 2012
Coté

5

sur

5
par
EastCoaster
Cozy and Classy!
Again, this is one of those items that I saw online and didn't think it at all special. Even in the store, I saw it hanging on the rack behind the coat I was interested in, and the rich grey velvet trim of the garment caught my eye...I decided to try it on, and it was all over. SOLD! It's amazingly warm despite being on the thin side. The buttons are a GREAT detail that also provide the sweater with versatility! Like some of the other Anthro products, you can adjust the look ever so slightly by buttoning it differently. I personally love wearing it with the velvet trim showing to add another dimension to the sweater! As for fit, the pictures are pretty accurate... The price is on the higher side, but it's of good quality, a nice color for fall, and even the cleverness of keeping with the kangaroo pocket on the button side makes this a very unique piece! I recommend at least giving this one a shot!
10 novembre 2012
Coté

5

sur

5
par
MoetA
Made me happy :)
I saw a lady wearing this sweater coat on the street, and I complimented her and she told me "from Anthro" as if she could read my mind "from where? where? where!!!????!". Maybe the question was written all over my face.... On the exact same day at night, I was in front of my lap top finding the exact same sweater. I ordered it right away, and I just got it & love it!!!! very pretty. it runs true to the size. I am between size 4-6, and I wanted it a little loose so I ordered M. I wear a jean shirt underneath, and this coat over it. Perfectly pretty!
25 novembre 2012
MOTIF GRIS
Par Angel of the North
Front kangaroo pocket
Fermeture à boutons
Laine, polyester
Nettoyage à sec
Longueur : 28 po
Importée
N° de style : 25920869
Angel of the North makes it a cinch to cozy up everything from occasion dresses to casual pullovers with this slouchy cape; simply slip this woollen creation over your shoulders for unbeatable warmth.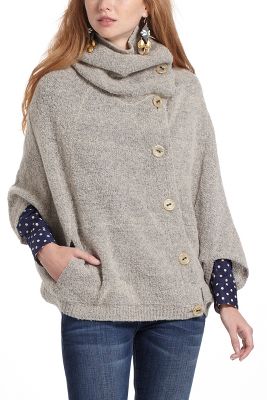 -->