Catégorie nulle
Huzaco Cutout Heels
nul
Coté

4

sur

5

par

4

les évaluateurs.
Coté

3

sur

5
par
ana1bythesea
Stunning, but giong back
I thought these shoes were lovely, they also looked comfortable (not too high of an arch). When I opened the box I was not disappointed, these shoes are simply gorgeous. As a photographer I work with a lot of great stylist so I know a good pair of shoes when I see them. Sadly, they were killers. they look super comfortable, but my arch (not high, it's normal) would not sit flat and I felt like I was on circus stilts even though I love platforms. I'm 5' 5" 1/2 ,128 lbs and I could barely stand my weight in these. If you're one of those girls who doesn't mind the feeling of walking on stilts with all of your weight pushed forward ( like so many shoes this season) these might not bother you. As for myself, if they hurt in 10 minutes or less they go BACK. I dance, roller blade, ice skate , so I know foot pain, but these heels didn't last 5 minutes out of the box. I hope others have a different experience with these beauties, I was sad to have to return them. regarding size: they run just a tad small and they don't come in half sizes. I ordered a pair Euro 37. I'm a size 7 normal width foot, 71/2 if shoes run small and 61/2 in hiking & ski boots. The 37 were a tad small, the 38 would have been too big.
2 janvier 2013
Coté

4

sur

5
par
cbrand
WOW!
I feel like I won the lottery! I've been on the hunt for navy heels for a while now and I was able to score a pair of these shoes on sale. I am not exaggerating when I say they are fabulous. The design is out of this world. The rich navy color, suede material and cut out design pretty much guarantee year round wear. These are that rare pair of shoes that changes their look depending on what they are worn with. With tights, they have an almost vintage 30's feel (something about the stack of the heel and the strap). With a flowery maxi dress they take on a bohemian flair. With a skirt and blouse, they look Euro chic. On top of all this, they are beautifully made. The construction is excellent and everything you would expect from a shoe made in Spain. I normally wear an 8,5 and the 39 fit very well with room to spare if anything. At 4" I find the heel a little bit high, though, that is likely my age (47) talking. If they were just tiny bit lower, I don't think you would ever get me to take them off. Still, I found them to be well balanced and comfortable. I'm 5'4", full figured, and a size 14. The thick heel distributes my weight well and they feel very stable. My only minor complaint is that I find these shoes hard to buckle. The strap also has two holes which makes it a little more difficult. Really, though, I don't find this to be an insurmountable problem.
8 janvier 2013
Coté

4

sur

5
par
quack
Very cute
Just got these cute shoes in the mail in the brown color and they are lovely! Good quality very comfortable.I normally wear a 6,5 in shoes and ordered the 37 in these. They are a tiny bit roomy but overall totally wearable and cute! Love them!
10 janvier 2013
MARINE
Par Lucky Penny
Taille juste
Boucle ajustable
Tige, semelle intérieure et semelle en cuir
Talon de 4 po entouré de cuir; plateforme 0,25 po
Espagne
N° de style : 25925355
We love the seriously chunky heel and intricate cutouts of Lucky Penny's suede peep-toes. Use them to ground a flowy printed dress, and don't forget the colorful tights!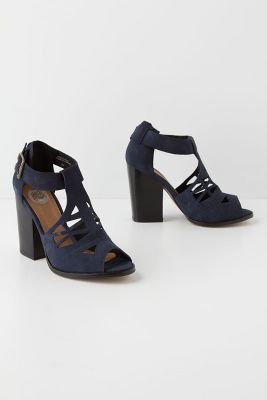 -->