Catégorie nulle
Jupe scintillante en brocart
nul
Coté

4

sur

5

par

5

les évaluateurs.
Coté

5

sur

5
par
shopgirlchic
A great surprise!
This has been in my basket since it was full price, and I finally added it to an order figuring I would take a chance at 29,95 $ USD given that there were no reviews so I figured something must be wrong with it. Well it arrived today, and I couldn't be happier. Not to mention I got it price adjusted to 14,95 $ USD! I couldn't disagree with the previous reviewer more. The color is fantastic, the metallic is rich and and a beautiful coppery chocolate brown. It is well made, fully lined, has pockets and the modern detail of the exposed zip is great. Now that I have seen this in person, I might have even bought this at full price or first cut. It does have a slight aline which doesn't work for everyone, but for this price you could easily have it altered to a straight skirt if you wanted. The fabric is great, yes it is mostly a synthetic blend, but jcrew gets away with 350 $ USD collection skirts that are mostly acrylic, so it doesn't bother me when it's so well made. Fit is true to size, sits on a natural waist though, not dropped, again, making this into a straight cut might be the way to go.
19 février 2013
Coté

5

sur

5
par
snow
Pretty!
Wondering why this skirt hasn't been sold out even it is on sale. It is shiny but not too much, goes well with ivory tops, interesting seam lines and zipper trim on back is cute! and crochet detail of lining hem. Wore all day long but not much wrinkle at all! Bought regular 0 and it is above knee even though I am 5'2".
20 février 2013
Coté

2

sur

5
par
123ginger
Strange fabric
Loved the color and length of this skirt when I tried it on the other day. Fits pretty true to size (a tad big, if anything), but is super unflattering, thanks to the texture of the fabric... kinda looks misshapen.
17 février 2013
BRUN
Par Leifsdottir
Fermeture à glissière au dos
Polyester, acetate, cotton; acetate lining
Nettoyage à sec
Standard : longueur de 19,25 po
Petite : longueur de 18 po
Importée
N° de style : 26069773
Leifsdottir¿s winter collection draws its inspiration from a variety of places and time periods; the Victorian era¿s flounces and peplums merge with 70s-inspired print and colorblocking while Russian matryoshka dolls, variegated texture and influences from realism, modern and photographic art lace their way through each creation, all pieced together by Leifsdottir¿s impeccable trademark tailoring. This sparkled A-line skirt, which is perfect for holiday dressing, is no exception.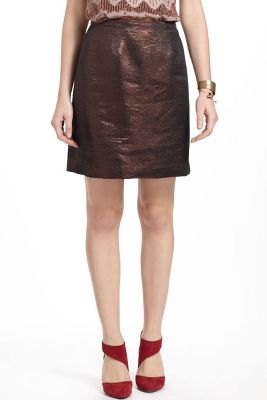 -->