Catégorie nulle
Flocked Botany Dress
nul
Coté

3

sur

5

par

11

les évaluateurs.
Coté

3

sur

5
par
coraline
Bigger sizes are not for petites
I'm almost 5'4'', 38C, and bought a size 12. Although several Tracy Reese dresses are very tight on the bust, this one is roomy and I had no trouble closing the zipper. The torso was too long and the "v" shape of the bust was extremely revealing. I wish there was a petite version of this dress or at least that the bust had a heart shape instead of a deep, wide and pointy "v" shape. I considered shortening the sheer lace on the top to pull the dress up, but then the left and right extremities of the "v" would start close to my shoulders, instead on the armpits. Maybe this dress will work better on women with small boobs. I loved the dress on the model, but the fit was completely off on me. The material is lace over a very heavy canvas-style fabric, there is no movement on the skirt, but it's very warm and Winter appropriate.
11 décembre 2012
Coté

3

sur

5
par
JustErin
Gorgeous Materials, Awkward Fit
This dress is stunning in real life - the lace overlay is beautiful - the raised material on the bottom is a gorgeous, unique detail - it is everything you could want in an event dress. Unfortunately, the fit is totally off. I have a rather long torso - and even on me the top half of the dress sat too low, the cut of the cups was awkward and the length of the skirt was too long (5'6" just passed my knees). This dress requires major alternation - which I'd be concerned would be difficult with the lace material - not to mention adding additional cost to a dress at this price point is less than desirable. Fit: I am normally an eight in most Tracy Reese dresses. This was the eight - and it was too large. I'd recommend sizing down.
16 janvier 2013
Coté

4

sur

5
par
LACA
It's Like a Monet...
I'm borrowing the Monet analogie from Clueless. This dress looks really beautiful from far away, but up close, there are a few things that kind of bug me. First of all, the black at the bottom is velvet, which I'm just not a big fan of. It's totally my fault for not reading all of the details before ordering. Secondly, there are a lot of loose threads on the velvet. No one aside from me would notice, but they're there, and for over 400 $ USD they really shouldn't be. Despite the cons, the dress fits like a glove, and it looks fantastic on. I decided to keep the dress and wear it to my company's holiday party. I got loads of compliments, including one "best dressed at the party" comment.
12 décembre 2012
NOIR
Par Tracy Reese
Fermeture à glissière au dos
Cotton, polyamide, polyester, nylon, rayon, silk; polyester lining
Nettoyage à sec
Longueur : 41 po
Importée
N° de style : 26088732
Plenty de Tracy Reese se caractérise par des jumelages de couleurs vives, des imprimés graphiques et des détails bohémiens complexes. Éclatante de textures et de motifs inattendus, cette collection d'inspiration globale met en évidence l'attention aux détails qui caractérise Reese, par de riches broderies et d'autres ornements originaux. This fanciful dress is no exception, with velvet rose appliques and a party-ready flounce.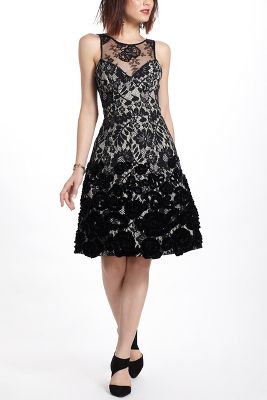 -->