Catégorie nulle
Keola Dress
nul
Coté

3,4

sur

5

 par

5

les évaluateurs.
Coté

2

sur

5
 par
heyboo
Looks are deceiving!
When I received this in the mail, I was in love. Held it up to me and it looked like it would fit so I packed it my purse for a fancy event that I had after work that night. Put the dress on at work for this event and was flabbergasted by how awkwardly it fit. Had I tried this dress on at the store, I wouldn't have opened the door to show even my friends! Yes, it was that bad. If there was floor length mirror at this event, I wouldn't have left the bathroom. My body type: bootylicious (think Beyonce + J.Lo) Fit on me: flowy and relaxed through the shoulders and waist. There is a pleat on the front and back of the dress that jetted out near my pelvis area. This created a poofyness in both the front (a la maternity) and back of the dress (kind of like a bustle). When I tried to adjust the front (to minimize the pregnancy look), the problem with the back of the dress was then more pronounced and vice versa for the back. Lose, lose situation. Length: as seen online Fabric: sturdy, quality silk Color/print: Accurately portrayed online. Stunning! The photos online do not accurately portray the actual fit of this dress. I am sure that this dress would look lovely on some ladies out there... Just not this lady! Hope this was helpful and happy shopping!
2 décembre 2012
Coté

5

sur

5
 par
Indiadom
Great for me
This dress fits me so well. I am top-heavy (i.e., very broad shoulders and moderate chest) and bottom light. I have such a difficult time finding dresses that fit my body type, usually. This dress fit the bill. however, I MUST thank the reviewer who described how the dress fit her body. Her review prompted me to buy the dress given i have the inverse body type. Thanks Anthropologie community!
18 décembre 2012
Coté

3

sur

5
 par
Lagerstroemia
Sleeve needs redesigning
On a positive note the fabric is beautiful and ideal for travelling. I ordered a small though my measurement correspond to a size 8 which is a medium. this dress is larger on top and accommodates my 32 G chest and my 38 inch hips.. However it does not fit right and the dolman sleeves are the problem. I cannot raise my arms easily without the waist pulling up. If I was to remain like the pictured model with my arms together and raise my forearm from the elbow it would be fine. I shall have to alter the sleeve to get wear out of this one, but a set in sleeve may require a zip. Lucky it's on sale
22 janvier 2013
MOTIF NOIR
From Dream Daily by Rozae Nichols
Noué à la taille
Style tricot
Polyester, élasthanne
Lavable à la main
37,5 po L
États-Unis
N° de style : 26184382
Influenced by a constant desire to explore and interpret cultures, Rozae Nichols of Dream Daily by Rozae Nichols has created a collection that's as much a global narrative as it is a fashion statement. Each piece boasts prints from around the world, threaded together by a similar aspect, be it color or pattern. We love this silky floral frock with leather booties and gold hoops.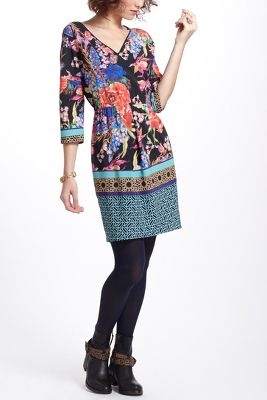 -->