Sky-Shimmer Crops
nul
Coté

4,8

sur

5

par

4

les évaluateurs.
Coté

5

sur

5
par
LittleBird
Size up!
First of all, you gotta size up for these pants. I'm usually a size 2 in pants (26 jeans) and I went up to a 6 in these. The 2 was a joke, and the 4, while it zipped, I felt it was too tight across my rear. I'm not sure if most designers are stroking our egos w/ vanity sizing or what, but I really wish women's clothes would adopt the same sizing guidelines as men's clothes. Okay, off my soapbox... The pants are really nicely made, and the sparkle is pretty subtle so easy to dress down. I'm in love with crops and these are a bit more flared, which I personally like.
18 novembre 2012
Coté

5

sur

5
par
BubbaL
great pants!
I am obsessed with this designer's pants. I own all three colors of the Nella Trousers, and saw these on sale and loved them too. They are not as cropped as the Nella Trousers, and as an earlier reviewer commented, the metallic thread throughout is very subtle. They do run small. I am normally a size 8 and got a 10 in these and the Nella Trousers. I am 129# and typically wear a 29 in Pilcro, Joe's and AG. They fit beautifully, and I am curvy. They enhance the curves and also slenderize. Love the back zip, too. Great retro, 1960's look and work with flats, heels and boots.
1 janvier 2013
Coté

4

sur

5
par
skulker
versatile
The same design as the Nella cropped trouser, with a bit of stretch, but slightly heavier material and longer length. If you don't like the metallic fad, don't worry, the shimmer is pretty quiet. I have sizes 2 and 4 in the Nella trouser, and ordered a 4 in these. Behold, they fit!
9 décembre 2012
MARINE
Par Corey Lynn Calter
Poches passepoilées à l'avant et à l'arrière
Linen, rayon, polyester; polyester lining
Lavable à la machine
27,5 po L
Importée
N° de style : 26350082
Petite-fille d'un tailleur italien et fille d'une décoratrice, Corey Lynn Calter a la texture et la couleur dans le sang. Reaping experience from opera houses, Broadway shows and New York's punk rock scene, Corey Lynn Calter's eponymous collection is composed of original prints, uber-flattering cuts and punchy hues that were inspired by her vast and varied background, as evidenced by these sparkled crops.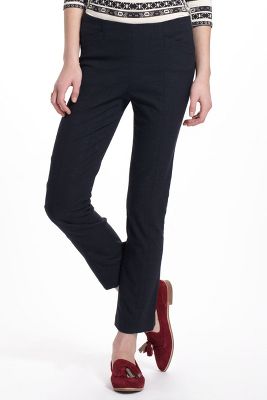 -->