Catégorie nulle
Coral Isle Pullover
nul
Coté

4,4

sur

5

 par

8

les évaluateurs.
Coté

5

sur

5
 par
Bluehen
Love this sweater!
I bought this sweater with the 30 % sweater promo after I almost bought it at full price. This is a beautiful sweater that is brighter in real life (the yellow and orange are more vibrant than online photos). I have to disagree with the previous reviewer. I wear this with a bra only and this sweater feels soft and not itchy at all. I also tried the Marna Fairisle sweater and found that one to have more of the itch factor. The other thing I love about the Coral Isle sweater is the long sleeves (hard to tell because the model has them pushed up). Most of the Anthro sweaters are 3/4 sleeve this winter which is really annoying in a cold weather climate. This is a shorter sweater hitting me at the waist band, but it is not cropped. I sized down in this because my store was out of medium, but I believe the medium would have been too boxy. I can wear a thin layer under the small, if I want to.
8 décembre 2012
Coté

5

sur

5
 par
shoppingvoice
Love this sweater!
I rarely find sweaters that I like, so for me, this was a real find! It's much cuter in person than in this photo! The colors, esp. the coral and yellow, are truly neon and the fit is looser than on the model and floats away from the body. It's very soft and cozy but I still plan to layer it over a chambray shirt or coral tee. There is a "notice" on the tag that one shouldn't wear jewelry when donning the sweater and this is definitely true. The weave on the inside of the sweater is very open and catches easily. I will treat it with much respect because I want this one to last a long time!
16 décembre 2012
Coté

3

sur

5
 par
Gats
boxy fit
I wanted to love this sweater, went to the store specifically during the sweater sale to buy it but when I tried it on I found the fit to be boxy. It ran true to size but the sweater is short and wide and, in my opinion, unflattering. Also, a lot of the sweaters in the stores had pulls in the delicate stitching.
9 décembre 2012
ORANGE
Par Charlie & Robin
Cotton, viscose, nylon, camel
Lavable à la main
Longueur : 24 po
Importée
N° de style : 26464339
A traditional form of knitting, fairisle, so named for the tiny island in Northern Scotland where the technique started, is constructed with a five-color palette with two colors per row. Charlie & Robin's update includes a chambray-lined neck and neon threads throughout.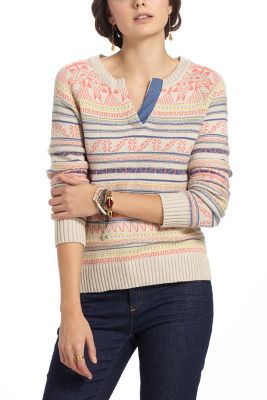 -->