Catégorie nulle
Collier à gland Zowie
nul
Coté

4,5

sur

5

 par

4

les évaluateurs.
Coté

5

sur

5
 par
fashioncrazed
Love it!!
Just received my necklace in the mail the other day and I love it. Paid the sale price. It has a nice weight to it and looks nicer in person then in the pic...the orange, yellow and pink are fabric covered and it gives it a wonderful texture. The silver has more sparkle then in the pic. The colors are perfect for spring/summer, planning on wearing it with grey/white tank and jeans, can't wait for warmer weather!
15 janvier 2013
Coté

5

sur

5
 par
Misssy
GORGEOUS!!!!
I have been wanting this necklace for months, so when I saw that it was on sale I snatched it up! This necklace did not disappoint!!! It is a longer length with a HUGE, chunky, bright and sparkly pendant!!! This necklace was worth every penny at full price so the sale just made the deal sweeter! If your thinking about buying it, you won't regret it!!!
23 janvier 2013
Coté

3

sur

5
 par
apologie
no nod for neon
Loved this piece from the first time I saw it. I make jewelry and really appreciate uniqueness! It is big but fortunately really lightweight, which is also good. I would have loved it were it not NEON. I hate neon, which is obviously just a 'me' thing. I wore it in sixth grade, and have no desire to revisit that era ;) Yes - it does say "neon" somewhere in the description, so my fault for not reading more closely. On my monitor, it just looks bright and happy! Alas, it is without a doubt NEON, which just isn't for me. In any color, non-neon, I would be wearing it now. If you heart neon, buy it up!
28 janvier 2013
ASSORTIE
Par Ranna Gill
Fermoir crochet
Brass, cotton, glass, plastic
Longueur : 26 po
pendentif de 5 po
Importée
N° de style : 26509638
Reconnue comme l'une des designers les plus remarquables de l'Inde et pour son penchant pour l'inattendu, Ranna Gill crée des vêtements originaux à partir de matériaux inhabituels et de combinaisons de couleurs innovatrices. Each of her striking designs, like this bejeweled neon necklace, is handcrafted in India.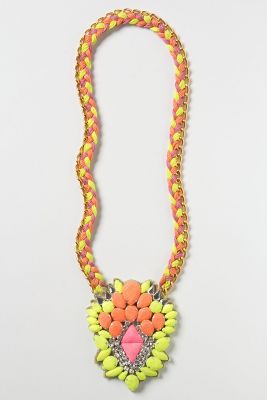 -->