Jeans court Patchie Mother
nul
Coté

3

sur

5

par

2

les évaluateurs.
Coté

1

sur

5
par
Tibbey
UUHHHGGG!
There is absolutely nothing about these jeans that makes them worth any amount of money.These are a waste of the shipping cost let alone the sale price.They are so thin that I cant imagine these lasting thru the first wash,I am afraid to bend over in them for the fear of the rear ripping. Now I may have a little bit of extra weight on me but my bum is pretty small and I am an athlete in good shape.I ordered my normal size and they fit like I was dipped in paint from my knees up.These looked so cheap I would be hard pressed to garden in them.UUHG! Such a total waste.
4 octobre 2013
Coté

5

sur

5
par
fashionplate
Gorgeous fit and fabric
These are just as good as I thought they would be. I love Mother denim. I have a few different styles from them. The pockets on these and the length (I'm petite) are what sold me on this jean. They also have a softness that is luxurious and feels quite like cashmere. I have ranged in sizes in this brand. The 27 was a little loose but in the cool grunge 90s way that Kate Moss would wear during that time. Highly recommend if you can get your hands on them. I believe they're sold out everywhere.
1 novembre 2013
Pale Rider
Par Mother
Deux poches arrière, deux poches avant
Coton, polyuréthanne
Lavable à la machine
26,5 po L
Taille : 9 po; cheville : 6 po
États-Unis
N° de style : 26645937
Fondée en 2004 par les vétérans du denim Lela Tillem et Tim Kaeding, Mother respecte quatre points essentiels : le denim, le tissu, la finition et le confort. Ultra doux et droit, ce pantalon court décontracté gagne sur tous les plans.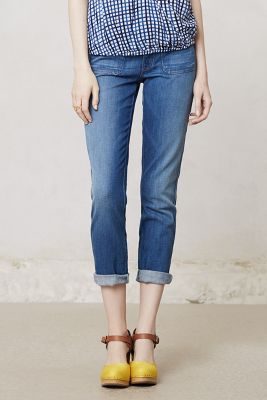 -->