Catégorie nulle
Jeans à la cheville AG Stevie
nul
Coté

4,1

sur

5

 par

22

les évaluateurs.
Coté

5

sur

5
 par
SomethingTimeless
best cropped skinny(ish) jeans EVERRRR...
- very TTS. (I wear a 26 in most brands and took a 26 in these as well) - stretch a little through out the day but, IMO, definitely don't stretch enough to justify sizing down. (NOTE: i like to wear my jeans like jeans, not like leggings. plus, i wear jeans to work-- including these. so, mine fit me like they do on the model (in green#. - you can wash & dry them (cold w/ like colors of course) with no fear of shrinkage-- HUGE PLUS! - do NOT use regular spot cleaning products or techniques on these, prior to washing them for the first time-- the color will disappear from the area & they'll be ruined. - i have 10 million pairs of jeans already... but, now, i'm the proud owner of three of these! :) i've received LOTS of compliments on the neon/pink ones. - they hit a little higher around the ankle on me than they do on the model #referencing the girl in the green pair). but the sale associate told me that's how they're supposed to look... and i agreed with her that they're fab! - as other reviews have said, colors are extremely different in person. - price is a little high, for jeans you can't really wear year-round. but, the colors are so fantastic, you can't go wrong with any #or ALL of them)! buy them... seriously, do it!
10 février 2013
Coté

4

sur

5
 par
ElleV
Really cute, sizing issue
I bought these in grey (full price) and they're great. I've had them for maybe 4 months and they stretched out to the perfect size, havent worn down at all are are super comfy and soft. In fact, I loved them so much I bought the green pair(also full price) in the same size. Unfortunately, the green pair didn't stretch the way the grey ones did so I have to return them and size up. I didn't see any other reviewers that had this same problem so it may have just been my pair but I thought I'd write a review about it anyway. Luckily, due to Anthro's great exchange/return policy, I am able to return the grey ones and get some money back for the new greens because they're on sale now. I am 5'6"-ish, 126 pounds and my grey's are a 26 but I'll have to get a 27 in green. Overall I'd say buy these. I felt it was worth it full price because finding good jeans is such a pain in itself, so the sale price is just a bonus! Also, some other reviewers complained that they went to the ankle...not sure if they read the name of the pants that said "ankle jeans". I like the length, I think they're super cute and you don't have to hem them!!
23 juillet 2013
Coté

5

sur

5
 par
Meeb
Great pants
I have been a big fan of AG denim and cords for several years now. My sizes may have changed but not my love for this pant. It is a soft, easy to wear denim and the colors this Spring are beautiful. I got the lilac and the blue. I am on the short side so the ankle pant fits me more like a regular pant rather than high on the ankle. These pants give and stretch but not so much as to lose their shape. These simply are my favorite pant ever.
le 25 avril 2013
MARINE
Par AG
Cinq poches
Coton, lyocell, polyuréthane
Lavable à la machine
Standard : longueur de 27,5 po
Hauteur de taille: 7,25 po; cheville : 5,5 po
Petite : longueur de 26 po
Hauteur de taille: 7,25 po; cheville : 5,25 po
États-Unis
N° de style : 26650630
Il ne s'agit pas d'un mince exploit : en quelques années seulement, la ligne de boutique AG de Los Angeles est passée à la production à grande échelle du denim de première qualité. Mais chemin faisant, elle a su tout intégrer et innover dans le domaine des coupes, des finis et des délavés. Chaque pantalon AG est fabriqué aux États-Unis, incluant le Stevie, parfaitement ajusté, exclusif à Anthropologie et fait du denim élastique le plus doux que nous ayons jamais touché. Portez ce morceau particulièrement coloré avec un vêtement neutre non-neutre, comme marin ou rayé, pour une allure sans prétention qui va partout.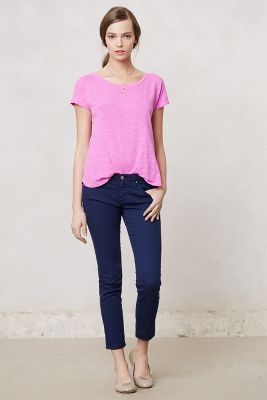 -->