Escarpins ouverts Cristi
nul
Coté

5

sur

5

par

3

les évaluateurs.
Coté

5

sur

5
par
sfshoegirl
Spring Beauty
Chie Mihara really hit the mark with the design of this shoe. I am a big fan of Chies - I allow myself one full price pair a year (and try to buy others on sale) and this was the one! Good to know about Chie Mihara shoes: they tend to show up in different variations at different retailers. I have seen the Cristis at other stores in white or black pebbled leather, but Anthropologie is the only retailer so far that seems to carry this pink, smooth leather version. I had to have them. They are pretty much exactly as pictured - a beautiful pale pink color, high stacked heel, and a small platform. The laser cut straps are sturdy yet delicately eye-catching. The footbed is lined with leather in this sort of checkerboard texture - I wish it were smooth, but because of the slope of the heel the texture may help keep your foot from slipping down. The reason I have to deduct one star for quality is that they just aren't as comfortable as I would expect. Chie Miharas are renowned for their quality and comfort, and for the price point I would expect a fabulously constructed and comfortable shoe. The leather is a little stiffer than I usually expect from her shoes, so it doesn't feel as luxurious as it should, and the platform sole is surprisingly hard with little give. I suspect the balls of my feet would start aching after standing a while in these shoes - a gel insert will probably help, but again for this price, the shoes should feel good right on their own without additional futzing. Overall, I'm still so enamored with how lovely these shoes are that I may still keep them and try to break them in. I haven't seen any other shoes this spring that have captured my heart so!
le 16 mars 2013
Coté

5

sur

5
par
pabird
The perfect nude sandal!
I truly think this is the best high heel shoe I have ever bought (and I have tried many). I am petite (5 ft 3 inches), and these shoes are really leg-lengthening, especially because of the nude color. They are easy to slip on and off, yet feel very secure on the foot. The heel is extremely comfortable and I didn't have any problem running in them to pick up the phone. My feet are wide in the toe area, and usually it's a great relief to take heels of this height off at the end of the day, but these were completely comfortable all day. Even though they are expensive shoes, I am starting to wear some neglected longer skirts and dresses in my wardrobe because I finally have comfortable heels to wear them with. So I'm finally getting my money's worth there. One word about sizing: I wear a 7,5 in US sizes and the recommended equivalent is 37,5 or 38. I originally got these in 38, which is what I usually order (especially for my wide toes). When I got the shoes in 38, they stayed on OK but it was clear that they were too long - the back of the shoe obviously stuck out beyond my heel. And for this price you want them to look perfect! Luckily a couple of days after receiving the 38, a pair of 37,5 came back into stock, so I re-ordered. Once I got the 37,5 and discovered that they were a perfect fit (even for my toes) I returned the 38. So I would strongly suggest ordering the smaller of the recommended sizes in the range.
le 25 avril 2013
Coté

5

sur

5
par
KellieAnn
Breathtaking Shoes!
This is my second pair of Chie Mihara shoes and these are as stunning in person as they are in the pictures. Chie shoes are so well made and of such beautiful quality that it is easy to forget why I buy them in the first place: for their unbelievable comfort! They are so comfortable for their height and style that I can walk around in them all day (I am a teacher so I am on my feel all day). These shoes have the same quality, class, and comfort that I expect from this designer. I highly recommend these or any of her shoes!
le 5 avril 2013
ROSE
Par Chie Mihara
Taille juste
Boucle ajustable
Tige, semelle intérieure et semelle en cuir
Talon enveloppé en cuir de 4,25 po; plateforme de 0,75 po
Espagne
N° de style : 26723973
En 2002, la designer Chie Mihara a lancé sa ligne éponyme à Elda, en Espagne, avec un objectif en tête : des chaussures bien conçues qui ne sacrifient pas le confort à la féminité. Elle s'inspire du passé - (de l'élégance des années 1930 au sens de l'humour des années 1980) - when creating her distinctly modern footwear, like this lasercut pair. Associés avec un jean fuseau et un chemisier en mousseline, ces talons vous feront avancer d'un bon pas.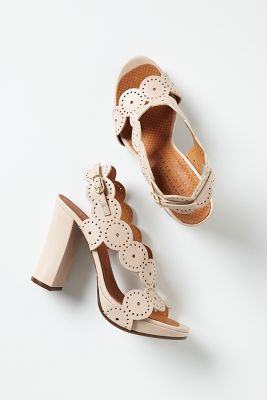 -->