Catégorie nulle
Flâneur Ipis
nul
Coté

4,4

sur

5

par

5

les évaluateurs.
Coté

4

sur

5
par
M959
Moyenne
I was excited to get these, but in person I was a little let down. The color has a pink/orange undertone, and I was expecting a true tan/camel color. The laser cut details are cute, but upon flexing the shoe, it looks like it will show age very quickly (wrinkles easily). The quality is average. Imported...from China. I guess I was thinking 'import' and 'leather' would come from somewhere else. Overall they are comfortable, but I just don't know if they are worth 150 $ USD. Debating on returning them.
le 19 mars 2013
Coté

5

sur

5
par
kpower
Versatile for Spring
These are lovely go-with-everything loafers for Spring. They are comfortable, with some light padding and enough of a heel to provide support. Some loafers can make my feet look very long, but these have enough detail to break up the space from toe to mid-foot. Love the light caramel color. These look equally cute with skinny jeans and with skirts, especially with colored tights popping through. I am typically a size 9 or 8.5, and the 8,5 just fit with no room to spare. I likely could've taken the 9 but decided to stick with the pair I got since they may stretch a bit.
7 février 2013
Coté

5

sur

5
par
HGLA
Nice. Runs a little small
These are very flattering. I found them to run a little small and had to size down a half size or I was slipping out of the back of them. At first I thought it might just be a defect with the left side as the right fit ok, but I ordered another pair and the same thing happened so I had to size down and they are a tiny bit snug, but comfortable. I wore them around the house and they feel great. They look very cute with the COH slim tomato red ankle jeans, but I agree they will look very flattering with skirts because of the tiny wedge heel. I too found them comfy with enough padding in them. The color elongates the leg.
le 2 mars 2013
NATUREL
Par Dolce Vita
Taille juste
Tige, semelle intérieure et semelle en cuir
Importée
N° de style : 26726901
Intemporelles, polyvalentes et vraiment adorables, ces sans-gênes en cuir de Dolce Vita donnent de l'éclat à des pantalons à coupe décontractée grâce à leurs détails au laser et leur teinte polyvalente.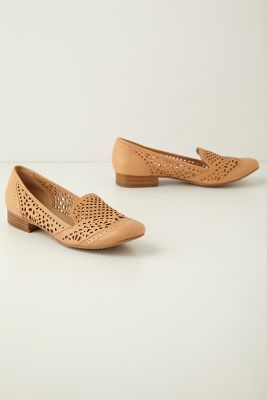 -->