Blazer Mori
nul
Coté

4,8

sur

5

par

5

les évaluateurs.
Coté

5

sur

5
par
berrystyle
oh so riviera, oh so chic
I was pleasantly surprised when my online order arrived. There's usually some detail that doesn't show up in the photos, but this cute cotton jacket is definitely an exception. In fact, the linen style weave in the stripe is even lovelier than the magnification can pick up. It's a slouchy, yet trim fit so don't size down too much (I chose XS and am usually a 2 in the top). I would even consider sizing up for that oversized look that suits these lightweight jackets. Don't expect tailoring that is too finished. The jacket is only lined in the sleeves. However, the quality reflects the price and suits the season. The other reviews gave me the confidence to buy this gem, so I hope my review is also helpful.
le 18 avril 2013
Coté

5

sur

5
par
manmar
Can't wait for Spring
The minute I saw this blazer I knew I had to have it. It is so much cuter in person than in this photo. The inside lining of the sleeves is a lavender stripe that looks adorable returned up. It is also a bit more fitted than it shows in the photo. I normally wear a 6 in blazers and got a medium in this and it fits perfect. I just need this Illinois weather to warm up so I can wear it. I got the last medium in the store and the sales associates said that it was selling like crazy. So glad I purchased it.
le 10 mars 2013
Coté

5

sur

5
par
Arlette
Very soft and lightweight blazer
Wow, a blazer that fit really well in the shoulders, without wrinkles or sagging. And more fitted than the photos indicate. I tried it on as a lark and ended up loving it. The size XS regular fit me well even though I'm petite (5'2" 32-24-36 with narrow shoulders and long torso). The sleeves were a little too long but not bad. I may try to get the petite to compare, but since the shoulders fit and the waist is at my natural waist I may stick with regular sizing. The stripes actually match, which is rare these days, and the cotton is very soft, yet slightly crisp, and feels very breathable for warmer days. In all a versatile piece that feels as good as it looks.
le 22 mars 2013
BLANC
Par Isabella Sinclair
Poches avant
Fermeture à boutons
Cotton; polyester sleeve lining
Standard : longueur de 24,5 po
Petite : longueur de 22,75 po
Importée
N° de style : 26731232
Avec ses rayures nautiques et sa silhouette légèrement ample, le blouson d'Isabella Sinclair se distingue de ses collègues plus sévères. We love this coat's versatility - it effortlessly tops everything from tailored slims to distressed skinnies.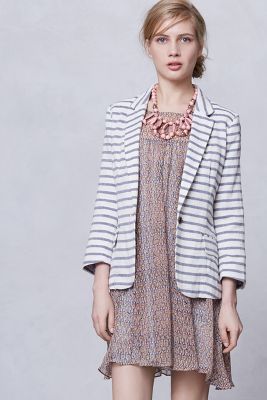 -->