Catégorie nulle
Robe maxi Picolina
nul
Coté

4,7

sur

5

par

7

les évaluateurs.
Coté

4

sur

5
par
no1anthroaddict
Striking!
This dress is very striking - love the colors and print, and the asymetrical hem. At 5'4" I opted to get this in a petite, and I'm glad I did; I think if I had gotten it in the regular I would either have to wear very high heels with it or try to hem it, and that might ruin it, so I highly recommend getting in petite if you are 5'4" or under. The fit is true to size to maybe running slightly small; it's yet another one that will likely be problematic if you are over a C cup. It was difficult to get into with the straps, and I need a better strapless bra than the one I currently have, but once "in" this dress is striking on!
25 janvier 2013
Coté

5

sur

5
par
dresslady
great dress
I am 5'6'', 130 lb and DD cup; size 6 fits perfectly. Will need to wear heals so hem does not touch the floor, but other than that I could not ask for prettier, better fitted dress. Really well cut.
le 31 mars 2013
Coté

5

sur

5
par
Sunshy
Striking
The photo of this dress does not do it justice. The way it is styled in this picture makes it seem a little too bohemian. I tried this on at my local store....they had one dress in this style. It ran a little big on me and I needed a smaller size. However, even with it being a little loose the neckline (which you lose in the photo because of the necklace), color, and floral design give the dress a lot of wow factor. I stepped out of the dressing room to look in the mirror and several people said the dress was great and wanted to know where I got it from in the store. The silk fabric had a lot of static but that one is easy to fix with a can of anti-static spray.
le 7 avril 2013
MOTIF ROUGE
Par Leifsdottir
Fermeture éclair sur le côté
Soie; doublure en polyester
Nettoyage à sec
Standard : longueur de 39,5 po
Petite : longueur de 36,5 po
Importée
N° de style : 26735415
Leifsdottir¿s spring collection was created from an adventurous trip to Ecuador and the Galapagos Islands, whose natural beauty boasts rich, bold hues, exotic flora and friendly wildlife. Gleaning inspiration from historic nautical voyages to these lush locations, each piece, like this flowing floral number, features 19th century influences, while nodding to the richness of the islands.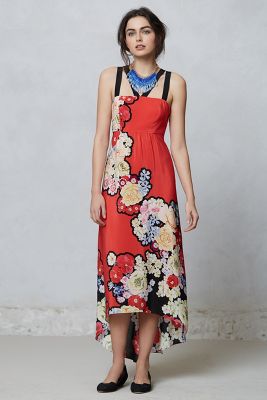 -->