T-shirt en dentelle Outlook
nul
Coté

4,5

sur

5

par

10

les évaluateurs.
Coté

3

sur

5
par
gardenia
Thin and trapeze-shaped
I definitely didn't pay enough attention to the alternate product shots when I saw this online and assumed based on the front photo that it was a glorified sweatshirt with a banded hem. It's actually a shirt, thin and unlined and verging on sheer. The shape feels to me like a trapeze shirt, much looser on the bottom as other reviewers have said. I agree it's very soft and comfy but didn't find it particularly flattering on me. The grey is also darker in person so the lace "v" shape is much more obvious - I would have preferred it to be more subtle because this way it reminds me of an arrow pointing down. I really wish this had been a more substantial sweatshirt with less contrast, as depicted in the first product shot. Hopefully my photos help others! For reference, I took my usual size XS and it was loose fit. The sleeves were also long but then I'm quite short.
24 janvier 2013
Coté

5

sur

5
par
nyckat
absolute comfort
Got this top last week and am VERY happy with it. It is absurdly soft. The pictures on the website do not show the lines of the shirt well at all. It is actually semi A-line. As in it slightly flares like a bell from under the armholes. Would actually be great for maternity but also very nice and relaxing for us slim girls (as reference I am 5'8" and 110lbs, 32C and love the way this fits). Because of the loose silhouette it is a great lounge top. I have been wearing mine with skinny jeans or yoga pants to run errands. The lace appliqué keeps it from feeling frumpy. The hem is slightly asymmetrical and the top is longer in the back. On me the back hem hits in the bottom 1/3 of my butt which is why this is also ideal with yoga pants as it provides ample coverage without feeling like I am rocking my tights for all the world to see. I see this transitioning into a great warm weather top to wear with cutoffs or even as a beach cover-up. For the price, very happy.
14 janvier 2013
Coté

5

sur

5
par
Frogmaid
Great tee, suuuuper soft
I love this shirt! I was slightly uncertain, b/c the photos only show it tucked in in the front, and out in the back (and odd choice). It has a subtle swing to it and comes up ever so slightly in the front, covers the butt (yay) and a little snug in the arms, making it a flattering fit overall. Did I mention how soft the fabric is??? Like buttah. I should also mention the color is slightly more gray than the photo, making for a nice contrast with the white lace detail. Haven't washed it yet, hopefully it will not shrink.
19 janvier 2013
BLANC
Par Bordeaux
Rayonne, élasthanne
Lavable à la main
Longueur : 26 po
Importée
N° de style : 26782425
Enracinées dans le design haute couture et fidèles aux règles du métier, les créations en jersey fin de Bordeaux sont des basiques imprégnés de luxe. Attendez-vous à des coupes géniales qui tombent bien et à de merveilleux tissus.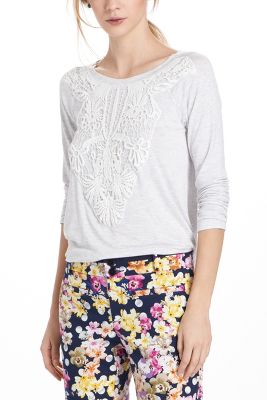 -->