Catégorie nulle
Tee-shirt col nouveau
nul
Coté

4,3

sur

5

 par

40

les évaluateurs.
Coté

5

sur

5
 par
AnnVeal
Ok I was just going to try this on for size at the store, maybe wishlist it, and be on my way. Then I saw the print up close. I fell in love with the black and white one, which features Parisian scenes, light blue dogs, and a black peter pan collar. AND the cutest blue button on the collar, matching the dogs. Anthro you nailed it; I had zero chance. It is semi-soft T shirt material, cap sleeves, with a non-stretchy cotton collar (black with black polka dots). The length hits just below the hip bones. I can see how some people may think these shirts are too cutesy, but I love it with skinny pants and a cardigan. Or a skirt. No one else buy this; I want to be the only one wearing it :)
le 3 mars 2013
Coté

5

sur

5
 par
Apriln0414
Soooooo adorably cute!
This shirt was the first thing I saw when I walked into Anthropologie. I wasn't certain about the color and style. It was so cute that I had to try it on. It looks way cuter on than in the pics online and on the hanger. I suggest heading into a store if you can to try it on for yourself.
28 février 2013
Coté

5

sur

5
 par
Belle1008
Sizing is important
I first ordered the black w/ horses in medium... right away I thought two things: this is so cute AND... like another reviewer stated, the collar makes me feel like a Pilgrim. It also seemed too long to me. I am 5'8,5" and about 122. I vary b/t small and medium but the medium in this shirt was just too big. I sent it back but couldn't get it out of my head. I re-ordered the same shirt in a small and was amazed at how much better the collar looked. It was much smaller and the dimensions of the shirt fit better as well. It is a bit thin, true, but I can live with it. With size small there is no margin for shrinkage... cold wash, flat dry for sure. I usually like shirts a little looser and less fitted, but not in this style. I'm good with it. I love the white horses - it's quirky, gives a nod to vintage, and just makes me smile.
Le 30 mai 2013
MOTIF ROUGE
bouton serrure à la nuque
Coton
Lavable à la machine
Longueur : 25 po
Importée
N° de style : 27200245
Doté de motifs excentriques et d'un col Claudine à pois, ce t-shirt peu conventionnel fait jaser.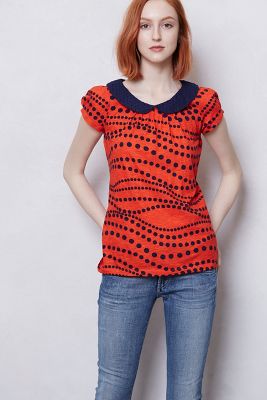 -->