Catégorie nulle
Jeans décontractés Level 99 Lily
nul
Coté

3,5

sur

5

par

8

les évaluateurs.
Coté

3

sur

5
par
misspenny
Not for curvy figures
These are well constructed jeans with a great wash, but unfortunately they are really not meant for curvier figures. I ordered a 29 (my normal size in other brands, I bought the Level 99 Lily Crop in a 28) and I could barely pull them up a quarter of the way over my hips! They seem to be cut in a true "boy" style, very straight through the waist and hips with little stretch. For reference, I weigh 145 lbs and my measurements are 34-28-39. I have no doubt that these beautiful jeans will work well on others, but sadly I will have to send them back.
le 1 avril 2013
Coté

5

sur

5
par
Rowan
Good for curves too -- perfect boyfriend jean.
I ordered two pairs of this jean, based on previous reviewers who said that if you want the look of the jeans on the model, you should size up, or that you would not get into them if you were the least bit curvy. I'd say I am curvy only because I am not "boy shaped." I have a 29 inch waist and 38 inch hips. I am a 29 in most jeans (AG, Pilcro etc) and a Size 8 in pants. I ordered the 30 and the 31. The 30's arrived today. I can literally pull them off without unbuttoning them. ;-) Boy jean definately, but way more "slouchy" in the back than on the model, and no one could ever say I have a flat derriere --- quite the contrary! However, from the front, they DO look like the model's but you need a belt or you have to keep your hand in your pocket to hold them up (like she appears to be doing) all day.....especially if they start to give as you wear them. A big plus for me was to finally find a soft and comfortable jean WITHOUT the usual elastic type stretch incorporated into the fabric. I really believe I could have gone with my usual Size 29 though. I will definitely be returning the 31's and will order the 29's just for comparison to the 30's I have in hand. In every respect these jeans are lovely. The wash, the feel of them, and the way they crease and whisker in all the right places for that "boyfriend" look. So don't be afraid of them if you have curves....just make sure you order your regular size AND one size up so you can be sure you get the right fit for you. I have been looking a LONG time for the jean to replace my old, worn out and muched love boyjean of 4 years. And this is it! They give just the right amount of irresistable femininity mixed with tough tomboy that looks SO effortlessly good!
5 juillet 2013
Coté

5

sur

5
par
Snowgirl21
LOVE THESE!
I ordered these in size 27 and 28. I normally wear a 28 but sometimes in other brands with a boyfriend fit I need to size down. This pair fits tts! I ended up returning the 27. They are so cute! Slouchy but not sloppy, and a great color! The inseam is on the shorter side ( I am normally a 33 inch inseam) but I will wear them rolled up anyway. Can't wait to wear these!
le 4 avril 2013
Castaic
Par Level 99
Cinq poches
Coton
Lavable à la machine
26,5 po L
Hauteur de taille: 9,25 po; cheville : 6,5 po
Importée
N° de style : 27715887
Quand il s'agit de se prélasser le weekend, notre ensemble de choix est constitué d'un t-shirt ultra-souple et d'un jeans à l'allure parfaitement usé et porté (avec juste assez de laisser-aller). Cette paire usée de Level 99 vous conviendra parfaitement.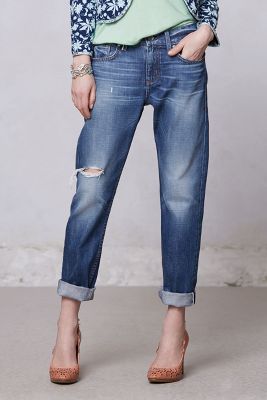 -->